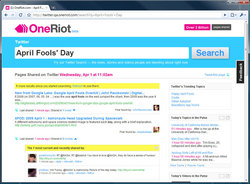 It's a new take on Twitter search
Boulder, Colo. and San Francisco, CA (Vocus) April 2, 2009
OneRiot, the real-time search engine that finds the pulse of the web, today announced the launch of a new Twitter search engine.
OneRiot's Twitter search results, for any query, reveal the relevant web pages that are currently being discussed within the Twitter community. Results are presented in a familiar search engine style displaying the title of a web page, a summary and a link. The results can be expanded to show the specific tweets related to that result. "It's a new take on Twitter search," said Kimbal Musk, CEO of OneRiot. "We're indexing all the links being shared on Twitter in real-time and allowing users to specifically search for the content that matters most to the Twitter community right now."
OneRiot's new Twitter search service enables users to:

Search the real-time web - find the news, stories and videos that people are tweeting about right now.
Easily find popular content on any subject - bypass the need to sort through a mass of tweets or expand shortened URLs to get to the content.
Observe and join a targeted conversation - engage in specific dialogue around a particular piece of web content.
OneRiot filters Twitter for all updates that include links, scans them in real-time for spam, timeliness and relevance, then indexes and groups tweets that share the same information. A simple search for a celebrity, company, industry term, or any other topic will surface the most relevant web content for that query right now and show the real-time conversation around that content.
The Alpha version of OneRiot's Twitter Search is now available at http://twitter.oneriot.com. User feedback and feature requests are welcome by sending a reply or direct message to http://twitter.com/OneRiot. Based on users' feedback, the company plans to incorporate its Twitter search offering into its primary real-time web search service at http://www.OneRiot.com.
About OneRiot:
Launched in November 2008, OneRiot is a real-time search engine that that finds the pulse of the web. Thanks to the constant help of more than two million users, OneRiot makes it easy for anyone to find the news and videos that people are talking about right now. Unlike any other search engine, OneRiot prioritizes web pages based on its current popularity with real people. OneRiot delivers search results that are fresh, friendly, and pulsing with the real-time energy of the web. OneRiot is a privately held company headquartered in Boulder, Colo. with offices in San Francisco.
Contact:
Courtney Walsh
Director of PR, OneRiot
303.938.3054
cwalsh (at) oneriot (dot) com
###