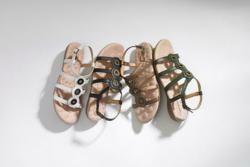 We have received rave reviews about our Comfortview® shoe collection and our customers are completely invested in the brand.
New York, NY (PRWEB) May 04, 2011
OneStopPlus, a division of Redcats USA and premier retailer for plus-size women, announced today the expansion of its Comfortview® shoe collection with the addition of fashionable mules, flats and sandals uniquely-designed with exclusive comfort technology.
Therapy Insoles by Comfortview® showcases footwear that is designed with massage dots, soft linings, arch support and extra shock absorption. In fact, Therapy Insoles was created to soothe a woman's foot while walking, eliminating stress and promoting a feeling of well-being. The brand also added the massaging foot bed sandal collection, which features a padded massaging insole and non-skid sole that are designed for long-wearing comfort. With these exclusive design innovations, comfort technology and fashionable styles, the Comfortview® shoe collection is perfect for wearing all through the spring and summer seasons!
Last year, OneStopPlus rebranded its footwear collection and focused even more intently on the use of technology and innovation in the design of its shoes. Every shoe in the Comfortview® assortment share key attributes: padded insoles (extra cushioning at heel & toe bed), non-skid bottoms, extended shoe sizes (size 7 through size 12 in medium, wide and extra-wide widths) and a stabilized heel design for better support.
"We have received rave reviews about our Comfortview® shoe collection and our customers are completely invested in the brand," said Blanca Vera, SVP, General Brand Manager for Roaman's®. "They trust that we understand how important comfort and style are to their shoe purchasing choices, and we intend to continue to delight and surprise her with the unbelievable combination of design and comfort."
To promote the new summer styles featured in the Comfortview® collection, OneStopPlus.com is offering 30% off one pair to customers who place a web order using coupon code RDCOMFORT (valid through 5/31/11).
Launched in 2007, OneStopPlus.com has rapidly expanded with fashion-forward collections including today's leading plus-size brands: Woman Within® (womanwithin.com), Roaman's® (roamans.com), Jessica London® (jessicalondon.com), AVENUE® (Avenue.com), KingSize® (kingsizedirect.com) and American and European partner brands Ellos, Taillissime, Ulla Popken, and most recently Torrid. Currently, the OneStopPlus.com marketplace features 200 brands and 20,000 styles with plans to further expand its brand offerings both domestically and internationally in the future.
For additional information, please visit: http://www.onestopplus.com, our Facebook page and follow us on Twitter at @onestopplus.
About Redcats USA
Redcats USA is a dynamic, multi-channel, web-driven home-shopping leader, with numerous successful brands in its portfolio: AVENUE®, Woman Within®, Jessica London®, Roaman's®, KingSize®, and BrylaneHome® sold on OneStopPlus.com®, The Sportsman's Guide® and TGW.com - The Golf Warehouse®. Redcats USA offers a wide range of value and quality driven merchandise categories, including men's and women's plus-size apparel, home and lifestyle products, and sporting goods/outdoor gear. Redcats USA is a Redcats company.
About Redcats
Redcats is a leading worldwide online retailer for fashion and home furnishings. The group gathers 17 European and US based brands in 31 countries: Avenue®, Woman Within®, Jessica London®, Roaman's®, KingSize®, BrylaneHome®, OneStopPlus.com, The Sportsman's Guide®, TGW.com - The Golf Warehouse®, Ellos, La Redoute, Vertbaudet, Cyrillus, Somewhere, Daxon, Stella McCartney Kids and Castaluna. In 2010, Redcats generated 3.436 billion euros of sales including 54% on Internet and employs over 14,000 associates. Redcats distribution network combines more than 70 e-commerce sites, nearly 600 stores and around 30 catalogues for 26 million active customers. Redcats is a PPR Company. For any further information: http://www.redcats.com
Contact Information
Karen Davis
Corporate PR & Communications
Redcats USA
Karen(dot)davis(at)redcatsusa(dot)com
###