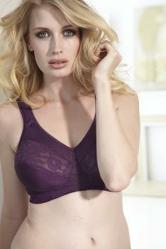 Design in the bra industry has never been more exciting, and fullbeauty.com offers true innovation in design and function and a no-compromise shopping experience.
New York, NY (PRWEB) September 28, 2011
OneStopPlus Group, the largest online retailer of women's and men's plus-size apparel and a division of Redcats USA, announced today the launch of fullbeauty.com, a revolutionary website for plus size bras and lingerie representing the most comprehensive range of brands, styles, sizes and colors available anywhere in the world.
Fullbeauty.com features 600+ items from thirty proprietary and national brands including: bras, panties, hosiery, shapewear, slips, camisoles, robes and sleepwear. Fullbeauty.com also offers groundbreaking technology and sophisticated design innovations that will help women finally see bras as their wardrobe foundation. Fashionable and affordable, fullbeauty.com has prices that range from $9.99 to $129.99 - a style and price point for every woman looking for the perfect lingerie for all occasions.
Driven by a dedicated team of expert technical designers and design visionaries who create a synergy between the latest designs, colors and functionalities, fullbeauty.com has challenged 'industry wisdom' by creating the reversible bra, the side wire bra, and the posture-support bra, among others. According to Michele Crawbuck, Vice President and Brand Manager, fullbeauty.com, "Design in the bra industry has never been more exciting, and fullbeauty.com offers true innovation in design and function and a no-compromise shopping experience. Plus, we offer our own proprietary brands – Comfort Choice®, Amoureuse® and Dreams and Co® - all of which adds up to the largest selection of plus-size bras in the world."
This new lingerie website is a natural extension of the company's plus-size women's apparel business and is validated by its expertise in plus-size fit, quality, innovation and service. FullBeauty.com is the ultimate solution for the 62 percent of U.S. women who are plus-size, and the 80 percent who are wearing the wrong size bra, as it provides an incredible selection of lingerie that has been especially designed for curvy women. Built to revolutionize the bra shopping experience for women, one visit to fullbeauty.com and women will find the product expertise, selection and unbelievable range of sizes (from 36B to 50N) they haven't been able to find anywhere else. In addition to proprietary brands, fullbeauty.com will feature national brands including: Chantelle, Elomi, Fantasie, Freya, Lunaire, Le Mystere, Avenue Body and many more.
"Fullbeauty.com was created to provide plus size women with the ultimate lingerie shopping experience," said Stephanie Sobel, President, OneStopPlus Group. "The plus size woman is underserved in this category and there is a very real need to fill for the curvaceous customer who wants flattering, sexy fashion. Fullbeauty.com is about inspiration and glamour, offering reliable fits that flatter curves to give every woman confidence in how she looks and feels."
Other websites in the OneStopPlus portfolio include: OneStopPlus.com, WomanWithin.com, Roamans.com, JessicaLondon.com, KingSizeDirect.com, BrylaneHome.com and BCOutlet.com.
For more information, please visit: fullbeauty.com (http://www.fullbeauty.com/), our Facebook page and follow us on Twitter.
About Redcats USA
Redcats USA is a dynamic, multi-channel, web-driven home-shopping leader, with numerous successful brands in its portfolio: AVENUE®, Woman Within®, Jessica London®, Roaman's®, KingSize®, and BrylaneHome® sold on OneStopPlus.com®, The Sportsman's Guide® and TGW.com - The Golf Warehouse®. Redcats USA offers a wide range of value and quality driven merchandise categories, including men's and women's plus-size apparel, home and lifestyle products, and sporting goods/outdoor gear. Redcats USA is a Redcats company.
About Redcats
Redcats is a leading worldwide online retailer for fashion and home furnishings. The group gathers 17 European and US based brands in 31 countries: Avenue®, Woman Within®, Jessica London®, Roaman's®, KingSize®, BrylaneHome®, OneStopPlus.com, The Sportsman's Guide®, TGW.com - The Golf Warehouse®, Ellos, La Redoute, Vertbaudet, Cyrillus, Somewhere, Daxon, Stella McCartney Kids and Castaluna. In 2010, Redcats generated 3.436 billion euros of sales including 54% on Internet and employs over 14,000 associates. Redcats distribution network combines more than 70 e-commerce sites, nearly 600 stores and around 30 catalogues for 26 million active customers. Redcats is a PPR Company. For any further information: redcats.com
Contact Information
Karen Davis
Corporate PR & Communications
Redcats USA
Karen(dot)davis(at)redcatsusa(dot)com
212-502-9315
###