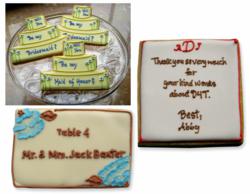 "What's nicer than receiving a hand-written card?" asks Dosik. "A personalized note on a custom-made cookie just about takes the cake!"
New York, NY (PRWEB) March 27, 2012
Cookies are no longer just a dessert thanks to Gail Dosik, founder of One Tough Cookie (http://www.onetoughcookienyc.com). Dosik creates custom-designed confections to help you invite, celebrate and give thanks.
Forget the cookie cutter way to send a card. Whatever the occasion – be it an invitation, thinking of you, or thank you, Dosik offers a sweeter way to communicate your message.
"What's nicer than receiving a hand-written card?" asks Dosik. "A personalized note on a custom-made cookie just about takes the cake!"
Dosik shares three ideas for turning cookies into edible stationery:
1. Send a cookie invitation – choose a custom-themed cookie as a personal invitation to an upcoming party or as a way to ask someone to be a bridesmaid in a wedding party.
2. Use a cookie as a place card – announce seating arrangements by writing them on a cookie. The best part of this? The cookie doubles as dessert!
3. Give thanks with a cookie – show appreciation for a special family member, friend, colleague or client by sending them a sweet treat topped with a note of thanks.
"By working individually with each client, we come up with a cookie concept that is truly unique for his or her message," says Dosik. "Together, we create a card that is not worth saving as the cookies are just too good not to eat."
Dosik, THE Tough Cookie of One Tough Cookie, creates cookie designs that give customers a tasty way to express themselves through one-of-a-kind cookie stationery.
For more information about One Tough Cookie visit http://www.onetoughcookienyc.com.
# # #
One Tough Cookie (http://www.onetoughcookienyc.com), the Prada of pastry, creates hand-decorated cookies, cakes and cupcakes that capture your style and your taste buds. Founded by Gail Dosik (known as 'THE Tough Cookie'), One Tough Cookie dishes up confectionery artistry rooted in fashion. Dosik spent 20 years at NYC fashion houses before opening her boutique bakery doors. Studying at the French Culinary Institute ensures that her pastry portraits taste as good as they look.