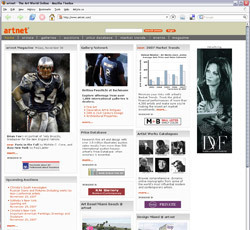 Oneupweb's expertise will play a vital role in maximizing the performance of our online marketing efforts.
Traverse City, MI (Vocus) December 5, 2007
Integrated online marketing leader Oneupweb has been chosen to develop a strategic search marketing campaign for artnet Worldwide Corporation. The paid search campaign will position the company as the premier resource for buying, selling and researching fine art and decorative art and design.
"artnet is a very exciting client. Their website has been artistically designed and includes the largest Gallery Network and Price Database online," says Oneupweb CEO Lisa Wehr. "Oneupweb's task is to bring the right visitors to this site, further enhancing artnet's reputation as a leader in their space."
To do this, Oneupweb will develop a strategic pay per click (PPC) campaign that includes using research-driven usability principles to create and launch 10 landing pages. They will also introduce and promote artnet Online Auctions -- artnet's upcoming fine art auction service. This interactive marketplace will enable authorized dealers, collectors and artists to sell works conveniently, immediately and globally. Through the online auction service, buyers will be able to view comparable artwork pricing and bid at their own convenience -- anytime, anywhere.
"We needed a partner that could help us drive high-end customers to our site; someone who understands how specialized the art market is," says Boris Bauer, artnet's Vice President of Marketing and User Experience. "Oneupweb understands our goals, our customer base and can deliver a truly customized campaign."
By using their proprietary conversion tracking technology, ROI Trax™, Oneupweb will monitor and track pay per click ad performance closely, making adjustments where needed to deliver the best results. Oneupweb will also continue to assess artnet's competition, crafting creative messages to address the competitive landscape.
"We stress a hands-on approach to campaign management, which is what artnet prefers," notes Wehr.
And Bauer agrees. "Oneupweb's expertise will play a vital role in maximizing the performance of our online marketing efforts."
About Oneupweb:
Oneupweb has been an innovator in online marketing for more than a decade, creating integrated online marketing plans that include natural search engine optimization, paid search marketing, podcast production, social media marketing, usability analysis, website conversion improvement, media placement and blog marketing. An award-winning firm, Oneupweb was named a 2006 Michigan Top 50 Company to Watch and is the only three-time winner of the prestigious ClickZ Best Search Engine Marketing Vendor Award. CEO, Lisa Wehr, an Ernst & Young Entrepreneur of the Year, has been named to BtoB Magazine's Who's Who List four years and is recognized as a Leader & Innovator by Lawrence Technological University. The company publishes a blog entitled StraightUpSearch.com. Oneupweb is a privately held company located in Traverse City, Michigan. For more information on Oneupweb, please contact 231.922.9977 or visit OneUpWeb.com.
About artnet:
artnet is the premier resource for buying, selling and researching fine art and decorative art and design. artnet's online Gallery Network is the largest of its kind, with over 1,700 galleries in over 250 cities worldwide, more than 100,000 works by over 25,000 artists from around the globe. The Network serves dealers and art buyers alike by providing a survey of the market and its pricing trends, as well as the means to communicate instantly, inexpensively and globally. Other key services include artnet Magazine, the insider's guide to the art market with daily news, reviews, and features by renowned writers in the art community and the Price Database - the most comprehensive color illustrated archive of fine art and 20th century design auction results worldwide. Representing auction results from over 500 international auction houses since 1985, the Price Database covers more than 3.5 million artworks by over 180,000 artists, ranging from Old Masters to Contemporary Art. For more information on artnet, visit artnet.com.
###