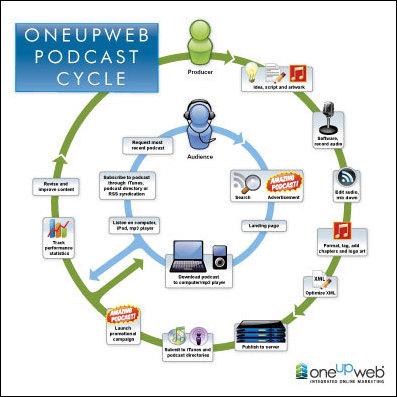 We believe that PodTractor is best suited for businesses who've been considering podcasting, but needed additional tracking to be able to justify the resources
Lake Leelanau, MI (PRWEB) September 6, 2006 -—
Oneupweb, an online marketing leader, and creator of PodTractor™ a revolutionary, hosted tracking technology, reports today that PodTractor can measure iTunes podcast subscribers. PodTractor allows marketers and podcast producers to analyze the behavior of unique iTunes subscribers, in addition to those downloading through other directories. This access to iTunes data is unmatched according to podcast industry authorities.
Oneupweb's Press Release section of the website has a link to a
10-minute podcast of Oneupweb CEO, Lisa Wehr and Director of Business Development, Tim Kauffold discussing the market reaction to PodTractor's abilities to track iTunes.
"We've been overwhelmed by industry pundits asking, 'How did you figure out how to track iTunes subscribers?'" says Oneupweb CEO, Lisa Wehr. "We knew we had breakthrough technology; we just didn't realize how many people have been struggling with it."
Oneupweb launched PodTractor™ earlier this month, supporting the technology with a rollout of podcast production services under the brand name PodGarden™. Since that time, the company has been flooded with requests for demonstrations of the technology. Podcasters are also prolific bloggers, adding to the online buzz in many blog posts.
"We believe that PodTractor is best suited for businesses who've been considering podcasting, but needed additional tracking to be able to justify the resources," says Wehr. "The launch has taught us that many long-time podcasters—podcasting pioneers, content publishers and those with millions of loyal listeners—have been waiting for this technology."
So how does PodTractor do it? PodTractor works by combining some of the principles of traditional data collection with Oneupweb's own innovative, new technology. This new PodTractor technology acts much like a gatekeeper, handling the requests from listeners in a unique and proprietary fashion and then managing that traffic with the server - regardless of file type or download application. This layer is what allows PodTractor to track and report on whole new levels of data and user interaction with podcasts.
About Oneupweb
Oneupweb has been an innovator in online marketing for more than a decade, creating integrated online marketing plans that include natural search engine optimization, paid search marketing, podcast production, online market research, marketing analytics and more. An award–winning firm, Oneupweb was named a 2006 Michigan Top 50 Company to Watch and is the only two–time winner of the prestigious ClickZ Best Search Engine Marketing Vendor Award. CEO, Lisa Wehr, an Ernst & Young Entrepreneur of the Year, has been named to BtoB Magazine's Who's Who List three years and is recognized as a Leader & Innovator by Lawrence Technological University. The company publishes an SEO / SEM newsletter Online Marketing Brief™ and a blog and weekly podcast named StraightUpSearch. Oneupweb is a privately held company located in Michigan. For more information on Oneupweb, please contact 231.256.9811 or visit Oneupweb.com.
###