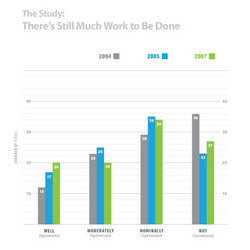 This study should serve as a wake-up call for many of the major online retailers
Traverse City, MI (Vocus) August 15, 2007
Eighty-one percent of Internet Retailer Magazine's top 100 retailers' websites are not fully utilizing search engine optimization and marketing -- missing profitable opportunities and risking loss of market share, according to a new study by integrated online marketing leader Oneupweb. The Study, entitled Once Again… There's Still Money on the Table: Internet Retailer Study 2007, is the third in a series of retailer studies released by the firm. The previous two studies were produced in 2004 and 2005. This most recent study can be downloaded at OneUpWeb.com.
"This study should serve as a wake-up call for many of the major online retailers," says Oneupweb CEO Lisa Wehr. "Simply put: paid search alone is not enough. And in a competitive e-commerce environment, this situation is too costly to ignore."
Oneupweb analyzed each of the top 100 site's meta tags, site architecture, keywords, content, and other tactics that could affect the sites' ability to be spidered by search engines and positioned well on search engine results pages (SERPs).
Of Internet Retailer Magazine's 2007 top 100 retailers' sites, Oneupweb found:

20% well-optimized
20% moderately optimized
34% nominally optimized
26% not optimized at all
The strong correlation between website optimization and search engine positioning, traffic, and sales conversions has long been established. (See Oneupweb's white paper, Target Google's Top Ten to Sell Online.) Accordingly, Oneupweb found that 90 percent of the well-optimized sites were positioned on the first page of Google results for at least two keywords. In comparison, this study found that only 22 percent of non-optimized sites appeared in the first Google search results page for two or more keywords.
"Search engine success is not a big mystery," explains Lisa Wehr. "The higher you rank in the results pages, the more visitors reach your website, and your sales increase accordingly. And it's surprising," adds Wehr, "that after three studies during four years of remarkable online growth, some of the worlds' largest online retailers still have not gotten the message."
As part of the latest study, Oneupweb carefully examined linking and the intra- and inter-connection of websites, blogs, and other media that can improve website popularity and search positions. They found that even a vast network of links and large brand names cannot fully overcome the lack of sound search engine optimization practices.
"This study should encourage online retailers who are not in the top 100," notes Lisa Wehr. "There are a variety of strategic opportunities that can and should be implemented in order to compete successfully and consistently. Conversely, large, successful retailers can take heart as well; they can further solidify their positions and secure even greater market share by attending to their websites more carefully. Either way, there's more work to be done for all online marketers."
About Oneupweb
Oneupweb has been an innovator in online marketing for more than a decade, creating integrated online marketing plans that include natural search engine optimization, paid search marketing, podcast production, social media marketing, usability analysis, website conversion improvement, media placement, and blog marketing. An award-winning firm, Oneupweb was named a 2006 Michigan Top 50 Company to Watch and is the only three-time winner of the prestigious ClickZ Best Search Engine Marketing Vendor Award. CEO, Lisa Wehr, an Ernst & Young Entrepreneur of the Year, has been named to BtoB Magazine's Who's Who List four years and is recognized as a Leader & Innovator by Lawrence Technological University. The company publishes a blog named StraightUpSearch.com and produces One for the Money, an informative podcast series available on iTunes and OneUpWeb.com. Oneupweb is a privately held company located in Michigan. For more information on Oneupweb, please contact 231.256.9811 or visit OneUpWeb.com.
###