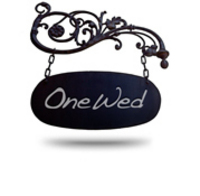 OneWed is thrilled to recognize the wedding experts who have earned rave reviews from newlyweds who valued their contributions
Chicago, IL (PRWEB) January 13, 2010
OneWed.com, the ultimate online resource for wedding planning and home of WeddingPreParty.com, today announced the recipients of their "Best of 2009" awards. The program honors the best wedding planning and service professionals in the wedding business among the 225,000 wedding vendors listed on OneWed.
The wedding professionals selected for this prestigious acknowledgment are an elite group of vendors who have received the most positive reviews based upon OneWed's 5-Star rating system. Each year, the coveted award is only given to the most highly-rated OneWed wedding vendors as voted by couples themselves.
"Online wedding planning today is extremely social, and brides and grooms increasingly seek advice from their peers. Couples place a high priority on recommendations from those who have wed before them and value their first-hand feedback," says Jennifer Napier, VP of Marketing. "We are thrilled to recognize the wedding experts who have earned rave reviews from newlyweds who valued their contributions."
OneWed reviews are tailored to each of 22 specific vendor categories, from florists to caterers to reception venues. Based on the broad offering, engaged couples flock to OneWed for detailed ratings, valuable answers to their most crucial questions, and robust descriptions of past clients' experiences.
During 2010, OneWed will continue to provide its community with the best in wedding planning resources, with the launch of the following new features: free customizable wedding websites with hundreds of designs; wedding flowers to purchase and ship directly to the couple or wedding venue from Weddings by FlowerPetal; virtual tours of wedding venues courtesy of VFM Leonardo; a recently expanded gallery of wedding dresses with specialized search options; and a party planning tool to organize and host any wedding-related celebration.
About OneWed:
OneWed is the ultimate online source for the truth in wedding planning, providing couples with a wealth of tips, advice, and creative suggestions to help personalize their wedding experience. The site's newest platform, WeddingPreParty.com, is a virtual way for couples to start the celebration early and keep in contact with guests through a social wedding planning network. OneWed boasts the largest searchable directory of local wedding vendors with over 225,000 vendors nationwide with honest ratings and reviews. Additionally, the site features OneWed's Savvy Scoop Wedding Blog, online wedding checklist, free wedding websites and ideas for everything from engagement rings to wedding flowers to honeymoon planning. OneWed can be found online at OneWed.com, facebook.com/Wedding.Planning, and twitter.com/OneWed
###