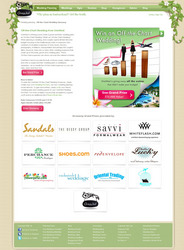 OneWed's WeddingPreParty.com is devoted to making wedding planning enjoyable for the couple and their wedding party
Chicago, IL (PRWEB) October 7, 2009
OneWed.com, the wedding planning website with the largest online directory of local wedding vendors, today kicked off the wedding contest of the season: The Off-the-Chart Wedding Giveaway. Designed to celebrate the launch of the new features of OneWed's social wedding planning platform, Wedding Pre-Party, the giveaway prizes are guaranteed to ease the stress of wedding budgeting for the winning couple and their wedding party.
When planning a wedding, most couples focus their budget on the traditional pie chart of ceremony and reception expenses, including food, music, flowers, photography, invitations, transportation and perhaps the couple's attire. This fabulous giveaway includes gifts that will cut back on the wedding expenses that often fall "off the chart" and sneak up on the bride, groom and wedding party.
With OneWed's WeddingPreParty.com, couples can keep the party rolling from the time of the engagement through the post-wedding day festivities. This new social wedding planning platform provides a private online forum for the couple and their guests. With links to the couple's public wedding website and access to the new Party Planning Application, users can post tips, upload photos and see status updates from the future bride and groom. With convenient log-in to WeddingPreParty.com using Facebook Connect, couples and guests can choose to publish their activities back to their Facebook profile.
"OneWed's WeddingPreParty.com is devoted to making wedding planning enjoyable for the couple and their wedding party," said Jennifer Napier, VP of Marketing for OneWed.com. "As WeddingPreParty.com evolves, we're so excited to provide one lucky couple and their wedding party with the otherwise 'off-the-chart' treats that make the wedding celebration complete!"
The winner of this giveaway will win a grand prize package worth over $15,000 in total, including:

A Four Night/Three Day Luxury Included® Honeymoon from Sandals Resorts
Wedding Bands from Whiteflash.com
Bridesmaids' Dresses from The Dessy Group
Groom and Groomsmen Tuxedo Packages from Savvi Formalwear
Rehearsal Dinner Dress from The Dessy Group
Bridal Jewelry from Designer Susanne Siegel and PERCHANCE Boutique
Bride's Shoes and Gift Certificate from Shoes.com
Bridesmaids' Shoes from Shoes.com
Bridesmaids' Gifts from RedEnvelope
Groom & Groomsmen Gifts from RedEnvelope
Thank You Cards from Hello!Lucky
Flower Bouquets from Weddings by FlowerPetal
Disposable Cameras from Exclusively Weddings
Cake Cutter, Guest Book & Autograph Picture Frame from Oriental Trading Company, Inc.
Honeymoon Airfare from Homewood Travel
To automatically enter the OneWed Off-the-Chart Wedding Giveaway, simply create your own Wedding Pre-Party on OneWed's new wedding planning social network. To gain more entries, simply invite your fiancé, wedding party and wedding guests to your OneWed Wedding Pre-Party. For every invitation successfully accepted by a guest you'll receive an additional entry to win this free wedding giveaway. To read official rules, visit Onewed.com/giveaways/offthechart/. Contest runs through January 31, 2010.
Visit WeddingPreParty.com to get the party started!
About OneWed
OneWed provides the largest searchable online database of local wedding vendors, with honest and detailed ratings and reviews. Founded in 2003 and re-launched in December 2008, OneWed boasts a directory of over 200,000 vendors nationwide and a superior wedding checklist to help any couple personalize their wedding planning experience. In February 2009, OneWed unveiled the OneWed's Savvy Scoop Wedding Blog, which covers everything from honeymoon planning to wedding dresses to engagement rings. OneWed's WeddingPreParty.com provides a unique virtual way for couples to start the celebration early and keep in contact, while building excitement before the big day. OneWed can be found online at OneWed.com, facebook.com/Wedding.Planning, and twitter.com/OneWed.
Facebook® is a registered trademark of Facebook Inc.
###