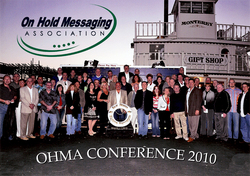 OHMA Chairman Allen Gaughf stated, "For the first time ever, we are allowing new qualifying member companies to join our organization prior to April 1, 2011, and send an attendee to the conference complimentary to experience the industry
Atlanta, GA (PRWEB) February 21, 2011
Each year, the international On Hold Messaging Association (OHMA) holds an annual conference to showcase manufacturers of music and messages equipment, content delivery systems, nationally known speakers and 'break out' sessions to discuss the evolution of the industry. And with this year marking the 11th conference, they're upping the ante! OHMA will be holding a side-by-side conference with the International Business Music Association (IBMA) in St. Louis, April 13 – 16, 2011 at the Sheraton Chalet Westport Convention Center and Resort.
Allen Gaughf, Chairman of OHMA stated, "This is sure to be the best conference yet, with powerful and relevant messages from outstanding speakers, new products and delivery systems from our valued sponsors, more vendors with a wider array of products and services, invaluable networking opportunities with both OHMA and IBMA members, and sponsors. We think the synergy between the two groups will intensify during the side-by-side."
"It's all about economics, convenience and value," explained Bud Waters, Executive Director, IBMA. "While the two associations represent parallel markets, both the IBMA and OHMA share common threads. There's a large overlap of vendors for both, which makes it much more economical to exhibit at one expo, rather than two. The dealers share a similar customer base, so paths to market have similar techniques. Additionally, holding one conference, centrally located in St. Louis, at the Sheraton Chalet Westport Convention Center and Resort, saves for everyone. The conference will be expanded to four days to accommodate both associations' unique business activities and to offer a full complement of workshops and training classes for sales, technical, and business practices common to both member groups."
To encourage new membership in OHMA, Chairman Gaughf stated, "For the first time ever, we are allowing new qualifying member companies to join our organization prior to April 1, 2011, and send an attendee to the conference complimentary to experience the industry's 'crown jewel'. I would encourage all companies in the on hold message business to explore this one-time opportunity!" More information on joining OHMA is available at http://www.ohma.org/membership.php.
In addition to the nation's leading suppliers and manufacturers of equipment for business music and on hold messages, conference speakers will include Tom Laughon and John Stiernberg. Tom Laughon, President of Catch Your Limit Consulting and a leading expert on creativity and strategic thinking, has proven that a consultant doesn't need "big boy shoes" and a tie to be a trusted advisor. John Stiernberg is founder and principal consultant with Stiernberg Consulting. John has over 30 years of experience in the music and entertainment technology field. He currently works with manufacturers, publishers, inventors, investors, and trade associations on strategic planning, market development, and M&A projects.
In addition to the General Session speakers, OHMA will have a guest speaker from the North American Association of Telecommunications Dealers (NATD) speaking on the future of telephony.
Some of the Breakout Sessions for the OHMA conference to look forward to:

Business Music 101 - How Relationships with IBMA Members can Help Grow your Business
Future of Telephony - NATD Board Member
Selling: What's working? - Moderated discussion
Can I diversify and keep my identity?
The On Hold Messaging Association (OHMA) is an international organization comprised of audio marketing agencies committed to expanding awareness of the On Hold Messaging industry, promoting ethical and professional business practices, assisting independent On Hold Messaging agencies in the development of their businesses, and enhancing the relationship between member agencies and their clients through education, self-regulation, and service and support excellence. We encourage qualified on hold marketing companies to explore the benefits of joining our organization. Please contact us today.
For more information, go to http://www.ohma.org or email them at info(at)ohma(dot)org.
###