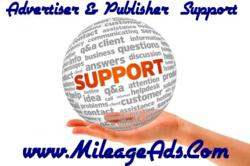 Houston,TX (PRWEB) February 12, 2013
Small businesses and self employed individuals need to monitor their ad budgets closely. PPC or Paid Per Click advertising can cost several dollars per-click, making attention to conversion supreme. Ad Network announces Milageads.com, a new CPC/CPA network serving all popular niches. New A/B split testing for advertisers will save small businesses big bucks while publishers will see more buck for the blog! Advertisers get to test multiple ad creatives and landing pages to optimize campaigns. And the systems artificial intelligence helps determine the best bidding options. Affiliate campaigns are welcome too.
Milageads.com is all about achieving higher conversion ratios. As a specialist in advertising across niches, Ad Network has created techniques to improve all aspects of network advertising. In addition to testing innovations, Ad Network shares their expertise in design, Banner use and ad size.
New sign-ups to Mileageads.com receive professional help in setting up their campaigns and publisher zones. Mileageads.com is determined to see their advertisers and publishers experience success with their campaigns and blogs. Find out the benefits of an advertising network with intelligence above all others.
About MileageAds
MileageAds.com provides individuals, entrepreneurs and small businesses with affordable and extremely effective online marketing solutions.It was developed to provide advertisers with an affordable online marketing solution that brings tremendous results via CPC and CPA advertising. MileageAds.com also offers opportunities for publishers, who can earn a tidy sum by displaying advertisements via their profitable and easy-to-integrate publisher program. MileageAds.com maintains a commitment to customer satisfaction. And the Mileage Ads team works hard to ensure that advertisers and publishers alike are satisfied and that their questions are answered in a timely and efficient manner.