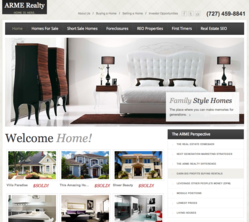 Feedback provided by realtors from all over the United States was used to develop an iron clad content management system allowing real estate professionals to grow their websites at a maximum pace
Nationwide (PRWEB) June 29, 2013
ARME Realty, an online real estate marketing firm located in Clearwater FL, announces their latest release of their online advertising for real estate programs to agents and brokers which will allow them to market their real estate listings via a proprietary content distribution kit created just for brokers. This new online real estate program consists of several different packages allowing clients the ability to begin building their web presence and continue investing in it over time.
Many realtors and brokers have websites that have been created by themselves or a web development company. The issue with many of these websites is that they are almost always very basic in design as well as content.
Internet marketing and web development are skills that are mastered through training, just like any other type of trade. Being able to produce a fully functional website that is going to grow to its full potential is a task that most individuals are capable of completing on their own.
Essentially, what ARME Realty has done is collect information from conversations that have been had over time with agents and brokers that have inquired about web development services and turned that information into what they call a "powerhouse web developer" which in turn will drive more sales to the real estate professional users.
"Feedback provided by realtors from all over the United States was used to develop an iron clad content management system allowing real estate professionals to grow their websites at a maximum pace. The unique and proprietary toolkit allows realtors to distribute their listing advertisement unlike ever before," states Simon Landers, spokesperson.
"The system allows the real estate profession to zero in on the exact type of home buyer or property type for purchase that the broker wants to deal in. People in every county in the country are doing local real estate related searches for virtually all property types and our toolkit will find out who those people are and exactly what property types they are searching for. It then translates this data into leads for our customers," continues Mr. Landers.
To learn more about ARME Realty.com and their online advertising programs for real estate companies call (727) 459-8841.