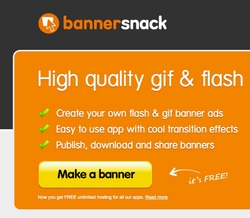 Our strategy is to take over the GIF banner editors market, to get as many people to use our application
Troy, MI (PRWEB) November 18, 2010
BannerSnack, the popular Flash banner maker app, has been updated with a new feature that allows users to create animated GIF banners. While downloading a banner in Flash .swf format implies a small cost, downloading it in .gif format is free of charge.
In their own words: "We invested a lot of money and effort to build a professional free online application for creating animated GIF banners in a serious attempt to conquer the banner making market".
Since BannerSnack's users will be able to download their banners as GIFs for free, the costs associated with servers and hosting are expected to skyrocket. "Our strategy is to take over the GIF banner editors market, to get as many people to use our application. Some of these users will download their banners as SWFs, a feature which comes with a fee" said a company representative.
A little background information
BannerSnack is an online application that allows non-programmers to create all kinds of interactive Flash content, especially banner ads. Its ease of use and professional output have made it attractive to more than 250.000 users from various fields, including web designers, bloggers and small business owners. And all this in less than two years and without the help of multimillion-dollar advertising campaigns.
Developed by Smartketer LLC, BannerSnack is part of SnackTools suite of online apps along with PhotoSnack, PodSnack, QuizSnack and TubeSnack.
Go to bannersnack.com and start creating your own banner ads, GIF or Flash.
###