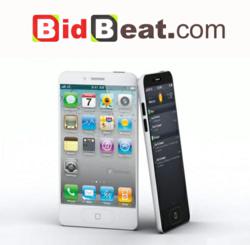 (PRWEB UK) 30 September 2011
The online auction site BidBeat is planning to release the iPhone 5 in the unique online auction. The iPhone 5 will be placed up for auction and will go to the lowest unique bid.
BidBeat is a penny auction where members can bid as low as one penny and possibly win coveted items such as the iPhone 5 and much more. To begin bidding, you must be a registered member of the website. After the new member purchases credits, they may begin to bid on the items that they would like to have.
A company spokesperson said, "We offer risk free bidding at our website. We are one of the few auction sites which will be offering the iPhone 5 at our online auctions. Our other items that have been up for auction, such as cameras, laptops, and other items have been discounted up to 90 percent."
Many items at BidBeat have gone for very little cash, plus some credits in the winner's account. When it is all tallied up, the price is far lower than it would be purchasing the item at retail cost.
This auction site is a bit different from other UK penny auction bid sites because their reverse auctions do not depend on beating the timer by placing a bid before time has expired. BidBeat requires the bidder to place the lowest unique bid to win products.
One happy bidder who won said, "I am thrilled that I won the auction on the 3D Sony Viao Laptop computer. It is the best laptop that I have ever had. I cannot believe that this website can auction items at such low prices. My friend who just joined BidBeat hopes to win the iPhone5."
Members who want to bid on a product must be registered members of BidBeat.com to participate in the auction. Most bidding websites are not secret, so bidders do not know how much other bidders have bid. Another rule of bidding is that bids must be the lowest unique bid to win. Once a bid is accepted, the bidder will discover how their bid compares to those made by other members. Bidders do not find out how much money other members bid.
The secrecy of the bidding adds a lot of suspense and excitement for most members. Each bid placed is actually like a bet that it will be the lowest unique bid.
For more information, contact the company at support(at)bidbeat(dot)com
About BidBeat.com:
BidBeat.com is a new UK bidding website offering a wide range of brand new products for low prices. The company has been operating since August, 2011. They have already expanded to the Czech Republic, and future plans are to expand to Germany and Spain by next year. For more information about this company, contact them via the following Email Address: support(at)bidbeat(dot)com
###