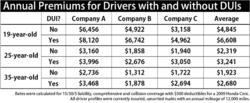 Having a DUI without injury on a driving record raised premiums by an average of 41 percent
Rancho Cucamonga, CA (Vocus/PRWEB) March 30, 2011
A new analysis of California auto insurance costs conducted by quote-comparison generator OnlineAutoInsurance.com highlights the significant effects that a DUI can have on the price of coverage.
Results of the analysis show that having a DUI can raise premiums by at least hundreds of dollars and by at most thousands. The size of the increase is affected by the choice of coverage provider and the driver's age.
The site produced the car insurance comparison by calculating prices from three different California insurers for three different-aged drivers. In addition, they calculated the price of coverage for each with and without a DUI on record.
The results showed that:

Having a DUI without injury on a driving record raised premiums by an average of 41 percent
The price of a policy for a 35-year-old with a DUI was on average 63 percent cheaper than the same policy for a 19-year-old with a DUI
Premiums for identical policies for all the drivers in the study varied by as much as 104 percent and by as little as 4 percent between carriers
When a driver applies for a policy with a California insurance company, the insurer can use more than a dozen personal factors to determine the amount of risk posed by a prospective policyholder and, in turn, how much to charge for coverage. If applicants have a DUI on their records, it indicates to the coverage provider that they may be higher risks to insure. Because of this, the price of a policy will almost certainly be higher.
The analysis conducted by OnlineAutoInsurance.com shows that having a DUI without injury on record can by itself raise rates from as little as 27 percent to as much as 57 percent. The size of the increase is generally determined by whether a company welcomes higher-risk drivers or prefers to insure more moderate-risk drivers.
According to the Office of Traffic Safety, there were 208,531 DUI arrests in California in 2009.
Source: http://www.ots.ca.gov/OTS_and_Traffic_Safety/Report_Card.asp
To learn more about this and other auto insurance issues, readers can go to http://www.onlineautoinsurance.com/compare/ where visitors will find informative resource pages as well as a quote-comparison generator that can help consumers track down the best price for a policy.
Note on methodology: All rates were calculated for single males who are currently insured and drive 2009 Honda Civics 12,000 miles a year. Coverage types used in the calculations were 15/30/5 liability, and comprehensive and collision with $500 deductibles.
###