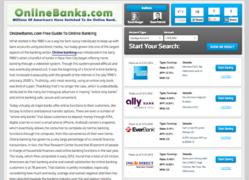 Consumers have gotten fed up with the amount of money they suddenly have to pay their bank in fees.
Delray Beach, FL (PRWEB) April 27, 2012
OnlineBanks.com has released a free informational guide to online banking, the goal is to answer many of the questions that anyone who is interested in online banking might have. Online banking has become incredibly popular in the last two years. In 2011, millions made the jump either to an online only bank or a credit union as a result of the fees that many banks began to charge their account holders.
Monthly checking account fees, increased charges for over drafts and in some cases what some have called absurd charges for simply using a debit card to withdraw money from an ATM not within a banks network, collectively all of the small incremental costs have driven many to flee their bank in search of a less expensive alternative to keeping their money secure.
The major benefit of online banks; says Scott Krager, a regular contributor to the website; is that you do not feel like you are being "nickeled and dimed" for every little thing. "Consumers have gotten fed up with the amount of money they suddenly have to pay their bank in fees. Everyone understands that times are tough, and the economy is not where we all would like it to be. That being said, many people feel that the banks, especially the ones that took bailout money should not be passing the financial strain down the line to their account holders. Online only banks have come a very long way in the last two years. The inconveniences associated with online banking that were a cause for concern just a couple of years ago are no longer an issue. There is really no reason any consumer should not seriously consider using an online only bank."
OnlineBanks.com's guide to online banking goes into great detail about many of the most desirable features that these online banks offer. It also highlights some of the less than desirable features, which truthfully are not many.
It should be noted that OnlineBanks.com parent company BankAds does not exclusively cover and review online banks. In fact they own and operate a number of websites and online publications that cover a variety of financial services including traditional brick and mortar banks.
OnlineBanks.com and BankAds are based out of Delray Beach, Florida.