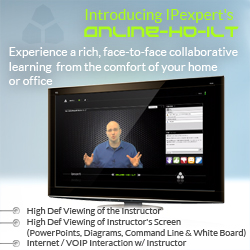 We're extremely excited to be able to offer this level of training for our clients. - Wayne Lawson, IPexpert's Founder & CEO
China, MI (PRWEB) April 10, 2013
IPexpert, Inc. announced today the availability of Associate (CCNA), Professional (CCNP) and Written (CCIE Written) certification online training for Cisco certification candidates delivered via their new cutting-edge live, online training solution.
For over a decade, IPexpert has been the overwhelming choice amongst students when it comes to advanced, high-end Cisco (CCIE) certification training, and now they tend to set their sights on also dominating the introductory-level (CCNA) and mid-level (CCNP) career certification market.
IPexpert's Online-HD-ILT™ was designed to create a engaging, "Hollywood-like" live classroom training experience, delivered via the internet, to global students. This new high-end delivery solution allows remote students the ability to grasp technical concepts through a highly-interactive, high-quality interface, which is much more cosmetically appealing, feature rich and engaging than their competitor's traditional online learning solutions. Each course will offer interactive discussions through true voice over IP (VOIP) technologies, live communication abilities, and high definition, high resolution video delivered to and from IPexpert's state-of-the-art recording and training studios, which are located throughout the United States, Europe and Asia.
"We're extremely excited to be able to offer this level of training for our clients", stated Wayne Lawson, IPexpert's Founder & CEO. "We have dominated the advanced Cisco (CCIE) training sector for over a decade, and we can now utilize our world-renowned instructors, stockpile of high-end hardware (used via the web, by our students), and our unmatched Online-HD-ILT™ training solution, to deliver cutting-edge classes to students who are starting out in the Cisco industry. We're going to be able to utilize our processes, methodologies and resources to instantly become a dominant player in this market."
Vik Malhi, IPexpert's Sr. Technical Instructor & Managing Partner said, "Our high-end CCIE students that we have been teaching have requested this type of introductory training, for their staff, for years. We're now happy to have an effective and cost-effective solution to offer them".
About IPexpert:
Founded in 2001, IPexpert has become a global leader serving its niche market, boasting a complete portfolio of self-study training products, workbooks, video training, audio training, classes and online equipment available for rental for Cisco's CCNA, CCNP and CCIE R&S, Voice, Data Center, Wireless and Security certifications.