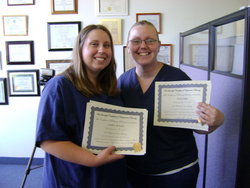 Professor Kimmel states: This is a most wonderful opportunity that I can offer to future health-care professionals. Students all over the United States are eligible to take the online CNA course and earn national certification.
Dearborn Heights, MI (PRWEB) November 1, 2010
Student Nursing Assistants looking to pass the Thompson Prometric CNA test have a new tool, the Online Certified Nursing Assistant Training Course from Phelbotomy Career Training.
Phlebotomy Career Training has announced a new online study guide and tutorials for C.N.A. students. Phlebotomy Career Training is pleased to announce the new online Certified Nursing Assistant training course. This course contains all the information that graduate or student C.N.A.'s need to help them in their training. Use of a book as a course guide reference helps only to a certain degree. The actual Thompson Prometric CNA Test is entirely online, so it makes all the sense in the world to offer student C.N.A's a similar training environment.
Nancy Kimmel, the president of Phlebotomy Career Training gives the following two scenarios:
"Janet is a recent graduate of a regular classroom type nurse aide program. She has paid over $2000 in tuition fees. She also had to pay Thompson Prometric $175 for testing. She is very nervous going into her exam. Not knowing what clinical skills will be asked of her makes her even more nervous. She has a book to study, but the information she keeps reading is the same. Two hours later. Janet gets the news, that she didn't pass one of her three skills and therefore cannot take the computerized test. She is devastated. The money for school she had to borrow. Now she cannot work, and has to wait to take the test again. She must also pay another fee. What now?"
"Mary is a recent graduate of a C.N.A. Program. She is very uncomfortable with computers. She has never taken an online test. Mary was able to pass her three clinical skills, but failed the Thompson Prometric. What now?"
"Both scenarios could have ended differently if both Mary and Janet had access to the online study tutorials for Certified Nursing Assistants from Phlebotomy Career Training," said Nancy Kimmel.
Why choose the Phlebotomy Career Training program? Phlebotomy Career Training is a licensed proprietary school within the state of Michigan. The school, Phlebotomy Career Training, has been approved by the Michigan W.O.R.K.S agency and the J.E.T. Program, a division of health and human services and it has some of the most qualified staff in the state of Michigan training our CENA's. In addition, their Certified Nurse Aide course meets all of the Michigan guidelines and is accredited by the Department of Community Health Department in Lansing. Professor Kimmel holds a PhD and a Registered Nurse License. She has developed many tutorials and software to help nursing students pass the Nursing Entrance Test. Her online programs for nursing tutorials are approved by Henry Ford Community College and her book, Pass The N.E.T., The First Time, is also for sale at Henry Ford Community College and Wayne County Community College book stores
The wealth of information on nurse aide practice skills available online to students, will help them excel in their clinical and lab skills. The online tutorial for nursing assistants contains many tests, quizzes, videos, interesting articles and much more. Students are offered tests that are designed closely to the Thompson Prometric. Students can view videos on isolation procedures, diabetes and therapeutic communication and all the twenty one clinical skills required by the Thompson Prometric CNA test.
The material is presented in an easy to read format. The student will be improving their skills by using the online program without realizing the amount of information that they are retaining. This is the integrated learning process that Professor Nancy Kimmel invented and patented. An ardent and long time educator, professor Nancy Kimmel has dedicated all of her resources and teaching ability to help develop the online tutorials.
All of the CENA's that professor Kimmel trains at their location in Michigan are offered the same online C.N.A. training course as the tutorial and study guide for the test, the regular classroom CNA courses are offered to students for $600. However, Professor Kimmel understands that there are many aspiring CENA and nurse aides enrolled already in other schools that would like to be able to use an online guide that is easy to read and will help with the Thompson Prometric. Therefore, professor Kimmel has given the nation access to the online certified nurse's aide study guide for $49.99
The certified nurse aide online study guide has more interactive and pertinent information that the student can use and demonstrate in their clinical rotation than any other online tutorial. This new online course helps C.N.A's understand the skills that they will have to perform and the videos help them to see how each skill is done.
Professor Nancy Kimmel offers numerous online courses and tutorials to help aspiring medical professionals pass their tests successfully the first time in the classroom as well as online, including: Advanced Phlebotomy Technician Certification Online, Hazardous Materials Handler Online Course, EKG/Telemetry Technician Online Course, Pass The N.E.T. Reading Comprehension Pass The N.E.T. Math Review, Pass the NET - Nursing Entrance Test Study Guide, and now the online Certified Nursing Assistant training course.
# # #