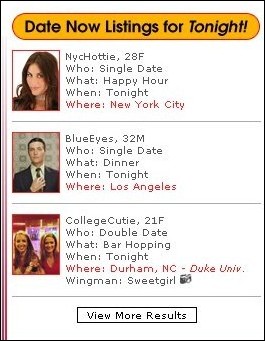 New York, NY (PRWEB) March 22, 2007
As the University of Florida continues its march through the NCAA basketball tournament in defense of its national title, good spirits must be flowing through the Gainesville campus as evidenced by the school's rise to the #2 spot this week in the IamFreeTonight.com rankings of the Top Colleges for Online Dating. IamFreeTonight.com speculates that the combination of students' excitement over the basketball team's success in the NCAA Tournament combined with the arrival of Spring Break is causing romance to blossom as Florida students are eager to find a spring fling and have turned to online dating to IamFreeTonight.com.
When the NCAA tournament began last week, the University of Florida ranked as the # 4 Top College for Online Dating, but wins over Jackson St. and Purdue have propelled the school to # 2 in the rankings, trailing only the University of Houston. Should Florida defeat Butler University in the Sweet 16, one can only speculate as to whether March Madness will continue to spread on the Florida campus and help the Gators reach the top spot in the rankings.
The IamFreeTonight.com rankings of the Top 25 Colleges for Online Dating are similar to the popular polls found in the NCAA Basketball Tournament during March Madness and the College Football BCS, and are based on a complex mathematical formula incorporating numerous variables relating to how college singles interact on the IamFreeTonight.com website. However, unlike similar polls which are purely subjective, personal opinions are not factored into the IamFreeTonight.com rankings at all, thereby making the results more credible and accurate. The IamFreeTonight.com Rankings of the Top 25 Colleges for Online Dating have daily and weekly updates.
IamFreeTonight.com has also created discussion forums for college students to discuss and debate these rankings. IamFreeTonight.com is an ideal free online dating service for college singles due to its unique Date Now! & 'Wingman' features. Date Now! enables college students to post their availability to meet singles and find a date instantly while the 'Wingman' concept enables singles to meet people by going out on double or group dates to meet other college girls and guys.
Some notable changes in the rankings from last week include:
University of Florida: moves up to #2 previously ranked #4
LSU (Louisiana State University): moves up to #3 previously ranked #48.
University of Arizona: moves up to # 6, previously ranked #11.
University of Maryland: moves up to #13, previously unranked.
University of North Carolina: moves up to #14 previously ranked #18
Texas A&M: moves up to #22 previously ranked #36
UCLA: moves up to #43, previously unranked.
University of Texas: moves down to #74, previously ranked #12.
University of Nevada Las Vegas (UNLV): moves down to #84, previously ranked #44.
The full list of the Top 25 Colleges For Online Dating last week includes:
Rank / College
1. University of Houston
2. University of Florida
3. Louisiana State University (LSU) at Baton Rouge
4. Brooklyn College
5. University of Houston, Downtown
6. University of Arizona
7. Florida Atlantic University
8. Monroe College
9. University of Phoenix
10. Emory & Henry College
11. East Texas Baptist University
12. University of Houston, Clear Lake
13. University of Maryland at College Park
14. University of North Carolina at Chapel Hill
15. Marquette University
16. Boise State University
17. University of South Florida
18. University of Central Oklahoma
19. University of North Florida
20. Southeastern Louisiana University
21. Lee College
22. Texas A&M University
23. Arizona State University
24. Dowling College
25. American College
IamFreeTonight.com is a free dating service owned by eTwine Holdings, Inc. (OTC BB: ETWI), a public company trading on the OTC BB under the ticker ETWI. In addition to its unique Date Now! and wingman concepts for double dating and group dating, IamFreeTonight.com offers all standard online dating site features to help singles meet and find a date including email, flirts, hotlists, 'stats,' and advanced searches. All features on IamFreeTonight.com are completely free.
About eTwine Holdings:
Incorporated in Delaware and headquartered in New York, eTwine Holdings, Inc. was created to offer the next generation in online dating services. We own and operate two free online dating sites. For more information please visit the IamFreeTonight.com website.
Forward-Looking Safe Harbor Statement:
This press release contains forward-looking statements that are made pursuant to the safe harbor provisions of the Private Securities Litigation Reform Act of 1995. By their nature, forward-looking statements and forecasts involve risks and uncertainties because they relate to events and depend on circumstances that will occur in the near future. There are a number of factors that could cause actual results and developments to differ materially from forecasted results. These risks and uncertainties include product demand, member activity, technical problems, market competition, delays in Web site development, and risks inherent in operations. For a discussion of these risks and uncertainties, see filings with the Securities and Exchange Commission. The company's public filings with the SEC are available from commercial document retrieval services and at the Web site maintained by the SEC at sec.gov.
###