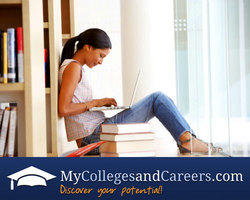 Many of my students struggle with the basics of modern education
Miami Beach, FL (Vocus) October 20, 2010
In these tough economic times, many are looking to go back to college and expand their skill sets so they can advance their careers through higher education. To help the record numbers of college applicants, My Colleges and Careers have created a new section of their blog dedicated to answering common questions students have when they are looking to go back to college.
"Many of my students struggle with the basics of modern education," said Michael Moss, an instructor for Great Basin College and blogger for My Colleges and Careers. "Using the internet in the classroom and instructors who handle communication mostly through e-mail present unique problems that they may not be prepared for, especially in online classes."
Tips and how-to guides on a variety of subjects provided by My Colleges and Careers will help those looking to go back to college after spending years in the work force adjust to student life and excel in the classroom. Guides on balancing work and school, tips on keeping their family obligations while attending college, and other resources will give students ideas and tips to make going back to college easier on their lives.
Many of the guides deal with online education, which has become a popular way for adults to go back to college and obtain advanced degrees to help them advance their careers. Because online colleges and universities are relatively new, many people do not understand what happens in an online class. It is important that potential students understand what is different between taking online classes and the traditional classroom.
New students may also find themselves struggling with the new technologies required in colleges and universities today, both online and in a traditional campus setting. This technology may seem difficult to learn and often causes frustration for those going back to college after several years in the work force. My Colleges and Career's new section has guides devoted to the various technical demands a college education requires. Guides on e-mail communication, tips on what to do if there is a problem in submitting assignments online and using social networks such as Facebook and Twitter will be readily available for those students looking to be up to date when they go back to college.
There are also guides on computers and other devices students may wish to use when they go back to college. There are guides on how students can upgrade their computers, how to customize their smartphones for going back to college, and other gadgets that will help students manage their time and get the most from their college education.
Choosing to go back to college is an important decision, and can often seem daunting for potential students. My Colleges and Careers is looking to assist potential students deal with the difficult transition required in going back to college. Those interested can find these resources at http://blog.mycollegesandcareers.com/category/backtocollege
MyCollegesandCareers.com is committed to helping students find the best school for them so they can earn their college degree and embark on a rewarding career. A powerful resource for individuals who have full-time jobs and family responsibilities, MyCollegesandCareers.com connects people with the programs which help them earn their online degrees.
###