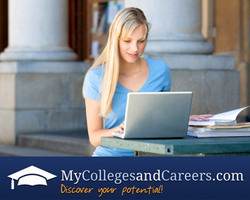 Provo, UT (Vocus) September 21, 2010
Online college courses and degrees are some of the most popular forms of higher education in today's world. There are online degrees for nearly every field and online college courses can be a great way to obtain a degree. Here are MyCollegesAndCareers.com's predictions for the top 10 online degrees and some of the top careers in that field. Each of the online degrees will then be broken down into why they are popular now, and why they are expected to grow in the future.
MyCollegesAndCareers.com's Top 10 Online Degrees and Careers
Graphic Design - Web Designer
Nursing - Registered Nurse
Massage Therapy - Massage Therapist
Information Science - Network Administrator
Computer Science - Software Developer
Accounting - Certified Public Accountant
Education - Special Education Teacher
Environmental Engineering – Environmental Engineer
Forensic Science - Criminal Investigator
Criminal Justice - Forensic Psychologist
Graphic Design and Web Designers
Why it's popular: Degrees in graphic design, and specifically web design have been popular for years. Web designers are responsible for creating high-quality websites that suit the purpose of the business or client.
Why it will grow: The Internet is always expanding. The need for web designers knowledgeable in the latest techniques and technologies will continue to grow. Changes in coding from HTML and XHTML to HTML-5 will also increase the demand for web designers.
Nursing Degrees and Registered Nurses
Why it's popular: The health care industry is vital to society. Those who work for the health care industry make their living helping people every day. Nursing is also an essential part of health care and nurses have the most time spent interacting with patients.
Why it will grow: As health care policies are implemented and more Americans are medically insured, the demand for health care will grow. With this growth there will be an increased demand for registered nurses.
Massage Therapy and Massage Therapists:
Why it's popular: Massage therapy is a popular field because it involves interacting with a great deal of people and helping to alleviate their pain, heal injuries, and alleviate stress. The ability to ease the pain of their clients is one of the biggest draws of massage therapists.
Why it will grow: Jobs for massage therapists are expected to grow at a high rate over the next several years. Much of this growth is due to the increasing popularity and number of spas throughout the country.
Information Systems and Network Administrators
Why it's popular: We are becoming a more technologically capable society every day. Advances in computer technologies, the Internet, and inter-office networks have created a stable industry for those managing these computer networks.
Why it will grow: The number of network devices such as printers, copiers, and phones, has been steadily increasing. The number of positions for network administrators is expected to grow rapidly over the next several years.
Computer Science and Software Developers
Why it's popular: Software is one of the most important parts of using computers, cell phones, and other gadgets allowing users to interact with these devices. Software developers create and test software using their knowledge of computers, mathematics, and programming.
Why it will grow: There are more electronic devices running complicated software being made every day. The increased popularity of smart phones, e-readers, and other devices will ensure that the need for software developers will continue to rise.
Accounting and Certified Public Accountants
Why it's popular: Accounting is a popular profession since there will always be a demand for accountants as long as there are business transactions with money.
Why it will grow: As the economy is expected to grow after the economic recession, business transactions are expected to greatly increase, increasing the demand for accountants. Certified public accountants are expected to have the highest earning and growth potential.
Education and Special Education Teachers
Why it's popular: Education jobs are popular due to both their importance in society and the relative stability of the profession. Special education teaching jobs are popular positions since they have a much smaller class size and can give children individualized attention.
Why it will grow: Advances in medicine and diagnostics are able to identify children with special needs earlier on in life. These children often need special attention throughout their educational experience. This will lead to an increased demand for special education teachers.
Environmental Engineering and Environmental Engineers
Why it's popular: Environmental fields are highly popular due to people who wish to work towards preserving and cleaning up the environment. Environmental engineers are the ones tasked with discovering new ways to save the world.
Why it will grow: With the new interest in green technologies, and with both the private industry and government investing heavily in environmental technologies, the demand for environmental engineers should greatly increase over the next several years.
Forensic Science and Criminal Investigators
Why it's popular: Criminal investigators, often known as detectives, are one of the most important parts of the criminal justice system. These positions are also some of the highest-paid positions that can be reached in the criminal justice field.
Why it will grow: With the increase of Internet crimes such as identity theft, as well as other new methods of perpetrating crime, the need for talented investigators is expected to grow.
Criminal Justice and Forensic psychologists
Why it's popular: Forensic psychologists are an integral part of the legal system in criminal trials and hearings. Forensic psychologists can also choose to work in hired positions or as individual consultants.
Why it will grow: The legal profession is expected to grow as the country recovers from the economic recession. With the increased number of attorneys and other legal personnel, more forensic psychologists will be needed to consult on cases.
MyCollegesAndCareers.com helps students connect with the best schools available to earn their college degree and embark on a rewarding career! A powerful resource for individuals who have full-time jobs or family responsibilities, My Colleges and Careers connects people with the programs that help them to earn their degree online.
###