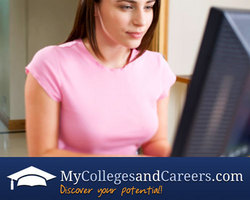 Provo, UT (Vocus) October 12, 2010
Deciding to complete an online distance education program is an exciting step that can lead to a promising career. Every year, thousands of students turn to online colleges and universities to complete their education. These students enjoy the flexibility of earning their degree from anywhere with an Internet connection. Originally designed to meet the needs of those serving in the military, online distance education has gone from relative obscurity to the fastest growing trend in higher education.
There are a dizzying array of websites that promise to help students find the right program, only to point them to the same outdated information. Finally there is a solution. MyCollegesandCareers.com is a revolutionary new website that has taken the guesswork out of finding the right online college or career.
With the weakening of the economy and the resulting economic fallout, many Americans turned to education as a way to give themselves the needed competitive edge in the workplace. This has resulted in numerous fly-by-night colleges offering degrees in any subject a student could want. Unfortunately, these diploma mills exploit the needs of the student and are not accredited by any agency. Often, students don't find out that their degree is worthless until after they have completed their studies. MyCollegesandCareers.com filters through the dozens of colleges out there to find the best accredited college or university to meet a student's needs.
What makes MyCollegesandCareers.com different? Unlike many other sites that claim to offer information on online distance education and careers, MyCollegesandCareers.com offers comprehensive information that is relevant and up to date. The site includes information on choosing a major, choosing the right distance education program, and financing education. Prospective students find the top colleges, universities, and careers for the upcoming year, read articles on how to avoid scams, and find out what courses they need to further their distance education.
In addition to providing students with the most up-to-date information regarding the online distance education program of their choice, MyCollegesandCareers.com has a wealth of resources, offering information on everything from the right smartphone applications to assist in online studies to tips for purchasing textbooks online.
My CollegesandCareers.com allows students to conduct custom searches filtered by degree program, specific college, and area of interest. The blog is an excellent source of knowledge about careers including certified public accounting, fashion designing, and video game designing.
Many of the other sites offering information on online colleges and universities fill their pages with useless information, and don't provide any new or insightful information. Not so with MyCollegesandCareers.com. This site has taken the time to research the top online universities and colleges and the best careers for specific degrees. The information contained on this site gives students the most in-depth information to guide students to the right choice and save them hours of fruitless searching for the online distance education program that fits their needs.
When looking for the right online college or career, there is no better site than MyCollegesandCareers.com. From blogs featuring accomplished experts in the field to custom searches, and top-notch advice on everything from classes to careers, this website is the best searchable portal for students who need the right information to guide their education decisions.
MyCollegesandCareers.com is committed to helping students find the best online schools for them so they can earn their college degree and embark on a rewarding career. A powerful resource for individuals who have full-time jobs and family responsibilities, MyCollegesandCareers.com connects people with the programs that help them earn their degree online.
###