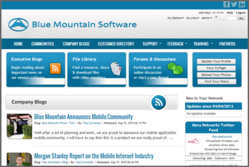 This investment in product development demonstrates Socious's commitment to incorporating new feature ideas from our customers and creating social software that to works the way our customers do
Mesa, AZ (PRWEB) May 30, 2013
Socious, a top provider of online community software for businesses, associations, and user groups, recently completed the first full year of stepped up product development under its new quick release program. The goal is to get new features into the hands of Socious's customers faster so that they can respond to the needs of their customers and members more effectively.
From April 2012 through April 2013, Socious added 350 new features and significant updates to its online community software platform.
Examples of major enhancements include APIs to better integrate with the systems that organizations are already using and additional engagement features. New development also expanded backend tools to help companies manage their online communities more easily and do more with the data they are collecting.
"The social business landscape is changing rapidly. Socious has doubled down on our product development to address the top priorities of our customers," said Socious co-founder and president, Scott Balthazor.
Other areas of the Socious online community software platform where new functionality was added include:
User Engagement
New features give individuals more control over their personal brand in a company's private online community, while adding the ability for organizations to customize user profiles to increase members' sense of community from the start.
Built-In Content Management System
Enhancements give organizations more options for how their information is displayed and make it easier for them to pull in content and social features from other parts of the online community.
Secure Document Viewing
This innovation enables people to share sensitive information with more confidence by decreasing the risk of documents being downloaded to individual computers, stolen, or copied.
Membership Management
New flexibility in the membership management tools allows membership organizations, user groups, and customer communities to more easily acquire, track, and renew their members.
Community Calendars
Extensive calendaring functionality enables organizations and sub-groups, like chapters or regional user groups, to maintain the calendar of record for the entire organization, as well as its groups, so that individuals can stay engaged with relevant events and meetings.
Event and Conference Management
Over 90 customer-driven enhancements were added to help organizations run all-size events from speaker management to registration to post-event reporting.
Financial Tracking and Reporting
New pay account features enable better financial tracking and reporting of revenue from membership dues, events, and other online purchases.
Reporting
Enhanced reporting options for financials, engagement, and customer segmentation make it easier to make tactical adjustments in your community and identity community members that need attention.
"Solving our markets' most important problems is important to us. This investment in product development demonstrates Socious's commitment to incorporating new feature ideas from our customers and creating social software that to works the way our customers do - rather than making them work the way the software does," said Paul Schneider, co-founder and senior vice president at Socious.
Socious plans to maintain this pace of innovation with new ways for making the platform easier to use and enabling organizations to improve their customer experience by incorporating the latest design trends in their online customer or member communities.
Socious customers can view the full list of enhancements and new features in the Socious customer support website at support.socious.com.
About Socious
Founded in 2002, Socious (socious.com) offers the industry's most complete online community software to large and mid-sized businesses, associations, and user groups. The Socious platform includes private social networking, customer communication tools, advanced segmentation, forums, collaboration tools, and a full mobile platform to help organizations increase sales, retention, and member engagement.
Take an online tour of Socious online community software.
###