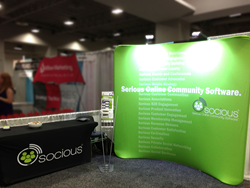 Associations have unique needs when it comes to building community.
Gilbert, AZ (PRWEB) June 12, 2014
Socious, a leading provider of online community software for businesses, associations, and user groups, will showcase its association online community platform at ASAE's Marketing, Membership, and Communications Conference. The annual event will take place at the Walter E. Washington Convention Center in Washington D.C. from June 17-18, 2014.
Socious has served the association and nonprofit community since its founding in 2002. Today, Socious helps organizations manage over one million members or customers.
"Associations have unique needs when it comes to building community. We've developed a one-of-a-kind private member community platform that will help membership organizations keep members engaged and increase the value of their membership," said Joshua Paul, Socious's senior director of strategy & marketing.
Socious is a longtime participant in ASAE conferences and events. Socious most recently led a discussion about the role of private online communities in improving member retention at ASAE's Great Ideas Conference.
Socious is well-known in the association and nonprofit world as the number one provider of educational information on how to plan, launch, and grow a private online member community.
"Selecting the best online community software platform is only half of the equation to creating a thriving community. Having the right people, processes, and strategy in place is equally as important," Paul continued.
Online community resources published by Socious include over 300 articles, ebooks, and training videos. They can be access for free at socious.com.
To learn more about Socious or schedule an appointment at the Membership, Marketing, and Communications Conference, visit the Socious website.
About Socious
Founded in 2002, Socious (socious.com) offers the industry's most complete online community software to large and mid-sized businesses, associations, and user groups. The Socious platform includes private social networking, customer communication tools, advanced segmentation, forums, collaboration tools, and a full mobile platform to help organizations increase retention, revenue, and member engagement. Take an online tour of Socious online community software.
###