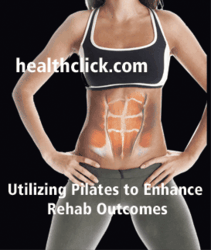 An advanced tool to master performance of Pilates exercises and to learn to integrate Pilates into a rehabilitation program.
Franklin, TN (PRWEB) October 31, 2012
Healthclick LMS, an online continuing education learning system delivers new tools for clinical teams to collaborate online in a dynamic, flexible environment. Here are some of the advantages of physical therapists using the collaborative courses with the Healthclick LMS:
1. Physical Therapists retain more clinical information when they learn with their peers. Each member of the team contributes their personal expertise which adds value to the entire team.
2. Standardization of Pilates for Rehabilitation protocols can be achieved by all members training and reviewing the same objectives and techniques.
Utilizing Pilates to Enhance Rehab Outcomes is a PT continuing education course online designed to help professionals gain basic knowledge of Pilates theory and principles and be able to integrate it into their rehabilitation programs. The core stabilizing muscles will be reviewed, as well as how core stabilization is important to functional activities and activities of daily living. The digital movies will be devoted to learning, properly executing, and cueing Pilates mat exercises. Small apparatus, including foam rolls, Swiss balls, and rings, are used during the Pilates exercises for modifications and advancements. Application of the Pilates principles and exercises will be discussed for orthopedic, neurologic, and geriatric patient populations. Further discussion of case studies and current research will demonstrate how a Pilates-based treatment program can help improve core stabilization, balance, coordination, postural awareness, strength, flexibility, and mobility. Upon completion of this course, the clinician will be able to immediately integrate their knowledge in the clinical setting to provide a Pilates-based rehab program to the orthopedic, neurologic, and/or geriatric patient for improved functional outcomes.
This Pilates for Rehab Online course provides instant online access as well as shipment of an Interactive DVD. This supports teams of therapists that need continuing education and a reference tool for use in the clinic.
Here are this physical therapy continuing education course online:

An advanced tool to master performance of Pilates exercises and to learn to integrate
Pilates into a rehabilitation program.

Educate yourself and share the DVD with other professionals for a group savings.
Designed for use in the clinic for patient's exercise instruction and group training.
Interactive, animated menus on DVD deliver quick access to over 80 exercises
with detailed narration.

Instantly access online content from PC, Mac, Smartphone or tablet.
Print CEU certificate online. (requires passing test score of 70% or better)
100% satisfaction guarantee.
For more information on online PT continuing education seminars contact North American Seminars at 1-800-300-5512 or visit http://www.healthclick.com