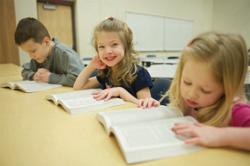 Our model is built around the kindness of people helping and sharing with others
Sausalito, CA (PRWEB) April 22, 2012
Across the country, lackluster economic conditions and chronic high unemployment have reduced budgets at schools, charities and other nonprofit organizations over the past few years, as tax revenues diminish and communities lose their ability to provide funding. CommonKindness, a new social enterprise, has developed a new coupon website that gives 20% of its revenues to nonprofit organizations every time one of its coupons is redeemed.
"Everyone is really excited about this new model, from the brand managers who place the coupons to the consumers who simultaneously save money and give money to nonprofits whose budgets have been devastated by our prolonged, global economic challenges," said Sarah Schloemer, President and Chief Marketing Officer at CommonKindness.
The way it works is simple: Shoppers go to http://www.CommonKindness.com, register and designate their favorite nonprofit from the user-friendly directory—or quickly add any that are not already on the list. Then they print out coupons for items they typically use or wish to try, and head to the store. For each coupon redeemed, CommonKindness donates 20% of the distribution fee it receives from the brand to the designated nonprofit.
"Nonprofit organizations and volunteers are the heart and soul of America," says Andrew Martin, founding Chairman of CommonKindness.com. "They do everything from educating our children to helping protect our environment to caring for the sick and elderly—plus so much more. Unfortunately, many nonprofits are now finding themselves in need. In fact, more nonprofits collapsed in 2011 than in any year since the Great Depression."
Martin has founded several successful companies, launching innovative products that have found comfortable homes in America's pantries, like Smartfood Popcorn and Annie's Homegrown Mac and Cheese. He and other young social entrepreneurs are now using their collective business savvy to create sustainable funding for diverse causes ranging from operating a 700-acre organic teaching farm and environmental preserve in New Zealand to saving teacher positions in America's elementary schools.
"We saw a dilemma—people want to help nonprofits, but they may not have the means to contribute much-needed funds," said Martin. "We felt that if we could facilitate donations in a way that wouldn't take money from the donor's budget, people could afford to be more generous."
Martin and his team found the answer in coupons. According to Martin, over 382 billion coupons valued at more than $450 billion were distributed in America last year, and coupons save the average shopper more than $100 for every hour they spend online locating coupons.
They also learned that most brand managers don't like the pay-per-print model mandated by the leading online coupon sites, so they made it easy for companies to participate by eliminating fees for loading coupons on the site, and charging only a small amount if a shopper redeems the coupon.
The idea has received a warm reception from brand managers. A range of small, local companies like Cabot Creamery Cooperative, Organic Valley, Yes to Carrots, Udi's Gluten Free, Immaculate Baking and Alter Eco to major brands like Tropicana, Ruffles, Frito-Lay, Quaker Oats, Pepsi and Gatorade are beginning to post valuable coupons on the CommonKindness site.
Martin believes that just like Smartfood and Annie's relied on word of mouth to grow customer loyalty, CommonKindness will succeed as more people find and use the website and tell others about it.
"Our model is built around the kindness of people helping and sharing with others," says Martin. "I once lived on the streets and survived on food stamps, so I know how life is incredibly difficult for many scared and tired people. But even on the streets I saw amazing kindness and caring among the homeless. I learned that if we express our CommonKindness, helping each other, we all gain wealth that money can't buy."
For more information about CommonKindness, go to http://www.commonkindness.com, email Info(at)Commonkindness(dot)com or phone (415) 887-9537.
About CommonKindness
CommonKindness is a new online coupon site that is revolutionizing the industry by eliminating coupon loading costs, only charging brands for coupons that are actually redeemed, and giving 20% of revenue to nonprofit organizations. In order to pass on as much money as possible to these organizations, many of which have been hit hard by the recession, the advertising budget is small. The coupon distributor therefore asks everyone to help spread the word about CommonKindness to friends, family and colleagues.