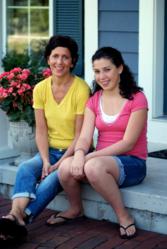 I am glad we are able to increase awareness of these wonderful products by posting her coupons on CommonKindness.
Sausalito, CA (PRWEB) May 08, 2012
As Mother's Day approaches and people take time to reflect on the contributions and sacrifices their moms have made throughout their lives, a story like the one behind Maty's all-natural remedies truly stands out. CommonKindness, the new online coupon site that gives 20% of its profits to the nonprofit organizations of the redeemer's choice, proudly welcomes Maty's healthy products to its wide selection of printable grocery coupons.
"I was very touched when I first spoke to Carolyn and learned the story behind Maty's all-natural remedies," said Gregg Cevallos, director of sales at CommonKindness. "I am glad we are able to increase awareness of these wonderful products by posting her coupons on CommonKindness."
Maty Harrington was born in 1996 with severe heart defects and without a spleen, and by age five she had undergone three complex surgeries to repair her heart. Though her doctors repaired her heart, Maty still had difficult medical issues and a weakened immune system that left her vulnerable to infections.
Desperate to help her daughter, Carolyn Harrington devoted her time to finding natural remedies that would improve and protect Maty's health. In her search she discovered many age-old natural remedies that were no longer widely used.
By applying today's scientific understanding of nature's healing agents to the traditional remedies she discovered, Carolyn was able to help her daughter Maty regain her health. Soon friends and family were asking her to share her remedies. They became so popular that Carolyn and her husband founded Maty's Healthy Products, LLC.
Appearing on a recent segment of NBC's Today Show that focused on foods that help fight the flu, nutritionist Robin Barrie Kaiden, MS, RD, CDN, CSSD, recommended Maty's All Natural Cough Syrup, noting that it's all natural and safe for children one and older.
"Most cough syrups aren't safe until kids are age six, but this has no harmful side effects. It's gluten free and it tastes great," said Barrie Kaiden. "The kid's version is caramel-banana flavor. It can be taken by the spoonful or added to foods like tea or oatmeal."
Maty's food-based products are completely drug-free. Carolyn says people love that they can easily recognize the ingredients. Maty's All Natural Cough Syrup for kids, for example, contains buckwheat honey, Celtic sea salt, apple cider vinegar, zinc gluconate, lemon peel, cinnamon, grapefruit seed extract, lemon balm and cayenne pepper.
Maty's also offers a line of all-natural chest rubs. Maty's All Natural Vapor Rub and Maty's All Natural Chest Rub are made with sunflower oil, coconut oil and castor oil instead of petroleum-based products. Carolyn says these essential oils provide gentle relief.
"I love the idea of not only helping our customers, but also helping charities around the world," said Carolyn about her decision to post coupons on CommonKindness.com. "We are very blessed with our daughter Maty, and we are excited to be able to pay it forward."
To post coupons on CommonKindness, or for more information about the online coupon site, go to http://www.commonkindness.com, email Info(at)CommonKindness(dot)com or call (415) 887-9537.
About CommonKindness
CommonKindness is the new online coupon site that operates on the principle of kindness and aims to benefit consumers, nonprofit organizations and brands. CommonKindness is revolutionizing the printable grocery coupons industry by eliminating coupon loading and change costs, charging brands only for coupons that are actually redeemed, and giving 20% of its revenue to nonprofit organizations.