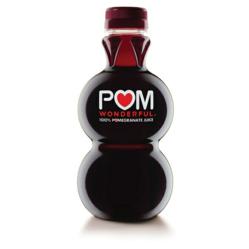 POM Wonderful is doing great work for the planet and society by employing eco-conscious business practices and sponsoring scientific research on the health benefits of its products
San Francisco, CA (PRWEB) May 26, 2012
CommonKindness, the new printable grocery coupon site that donates 20% of its revenues to consumers' favorite charities, now proudly features coupons from POM Wonderful. The global supplier of California-grown POM Wonderful pomegranates and all-natural pomegranate-based products has joined the ranks of many top brands that have partnered with CommonKindness to help provide a sustainable source for America's favorite nonprofit organizations.
Through coupons available on the CommonKindness website, POM Wonderful is offering customers a dollar off its 16oz 100% Pomegranate Juice. After the coupon is redeemed, CommonKindess will donate 20% of the coupon distribution fee it receives to a charity selected by the customer.
"POM Wonderful is doing great work for the planet and society by employing eco-conscious business practices and sponsoring scientific research on the health benefits of its products," said Nicholas Krivoruchko of CommonKindness. "We are both proud and excited to offer coupons for POM Wonderful on our site."
The way CommonKindness works is simple: Shoppers go to http://www.CommonKindness.com, quickly register and designate their favorite non-profit from the user-friendly directory. Then they print out coupons for items they typically use or want to try, and head to the store. For each online coupon redeemed, CommonKindness donates 20% of the distribution fee it receives from the brand to the shopper's designated nonprofit.
The CommonKindness online coupon model has received a warm reception from brand managers at companies ranging from Cabot Creamery Cooperative, Maty's Healthy Products to Hershey, Frito-Lay, Quaker Oats and Pepsi. New coupons are added to CommonKindness every week.
About CommonKindness
CommonKindness is the new online coupon site that operates on the principle of kindness and aims to benefit consumers, nonprofit organizations and brands. CommonKindness is revolutionizing the online coupon industry by eliminating coupon loading and change costs, charging brands only for coupons that are actually redeemed, and giving 20% of its revenue to nonprofit organizations. To learn more, go to commonkindness.com, email info(at)CommonKindness(dot)com or call (415) 887-9537.
About POM Wonderful
As a vertically integrated pomegranate company, POM Wonderful manages every step of the process, from growing its own Wonderful variety pomegranates to hand-picking and crushing the fruit to bottling the delicious juice contained within.POM's "tree-to-bottle" philosophy and proprietary juicing technology ensures that each bottle of POM Wonderful 100% Pomegranate juice delivers the highest quality pure pomegranate juice to consumers.POM Wonderful Pomegranate Juice is available year-round in the refrigerated section of produce departments in supermarkets nationwide.To learn more, go to http://www.pomwonderful.com.