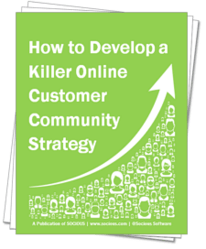 Mesa, AZ (PRWEB) August 24, 2012
Socious, a leading provider of web-based customer community software, announced the publication of their new ebook, How to Develop a Killer Online Customer Community Strategy. The free eBook is Socious' first of the third quarter and is written for businesses and membership organizations that are at the beginning of the social business planning process.
"There are hundreds of decisions that go into a successful online community strategy. We want to educate busy executives on the ways that online communities are strengthening customer relationships and help companies to stay focused on the elements of their customer community strategy that matter to their customers and to their organization," said Joshua Paul, the eBook's author and Socious' Director of Strategy.
The 31-page eBook details how company-owned customer communities work with traditional customer relationship management functions, the steps to creating a successful customer community, and the key decision points in the strategy development process.
Socious is one of the top producers of educational information and advice regarding online communities, private social networking, and customer engagement. The have developed dozens of free eBooks, videos, and toolkits for marketing, membership, and customer care executives. Socious' Online Community Blog is a popular source of customer community guidance among social business professionals and the company recently launches a video show and podcast called ProCommunity, which discusses how organizations are leveraging online communities to improve business performance.
Companies can download the eBook, How to Develop a Killer Online Customer Community Strategy, at no cost from the Socious web site (socious.com).
About Socious
Founded in 2002, Socious (socious.com) offers the industry's most complete online community software to large and mid-sized businesses, associations, and user groups. The Socious platform includes private social networking, customer communication tools, advanced segmentation, forums, collaboration tools, and a full mobile platform to help organizations increase sales, retention, and member engagement. Take an online tour of Socious online community software.