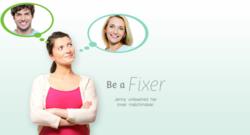 Meet and mingle with friends and friends of friends
Chicago, IL (PRWEB) June 07, 2013
Next phase of vision: an online community of offline friends that resembles the ways of good ol' main street as opposed to the information super highway. The first iteration of the idea, MeetFOAF.com, a sort of LinkedIn for dating, is growing in the 4 months since launch. Flood's next project, MyFOAF.com, is expected to launch later this year.
WTF (What the FOAF)?
Let's break it down. Friend of a friend (FOAF) is a website designed to provide a convenient way for singles and non singles to match, meet and mingle with friends and friends of friends. FOAF doesn't use algorithms (because they don't work). There are no time-consuming questionnaires (because they are annoying), and no strangers (because they can be scary). Just mutual, trusted friends (with up to three degrees of separation).
Is FOAF for you?
If already in a relationship, then yes.
Join FOAF and invite friends and foafs. Then start "Fixin" and help friends find love. FOAF makes it easy to help break the ice between the friends and foafs that could hit it off…without undue pressure or awkward set-ups.
If single, then yes.
Join FOAF and invite friends and foafs. Then start "Mixin". A Mixer will meet matches with whom there are connections in common. Since a personal trusted network of friends has already done the vetting, focus can be more on having fun and less on protective self defense measures.
There's no better way to meet a match. Really?
Really. Finding a match or making one through mutual, trusted friends is how human beings naturally interact - and it works.Sixty-eight percent of lasting couples meet through a mutual connection! FOAF just provides the technologically convenient space where people can connect in a way that's more natural.
How long before I can get started "Fixin" and "Mixin"?
You'll be "Fixin" and "Mixin" in 3 minutes tops. Just register (1 minute), create a profile (1 minute), invite friends (1 minute). Then FOAF will combine personal online networks so the "Fixin" or "Mixin" can begin. So, that's 4 quick steps: register, create a profile, invite friends, and start "Mixin" or "Fixin".