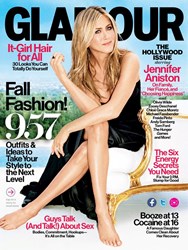 There are some simple basic steps to looking great in a dating profile picture and we tell you how to do it yourself.
(PRWEB) September 24, 2013
DatingHeadshots.com, the site that offers the most valuable information in online dating, is overjoyed to be featured in this month's issue of Glamour Magazine. Founder and photographer Gordon Gooch is interviewed by the magazine sharing his expert tips on how to look great in an online dating profile picture.
"We couldn't be more pleased than to be featured in a magazine like Glamour!" says Gooch. "There are some simple basic steps to looking great in a dating profile picture and we tell you how to do it yourself."
The September issue, on shelves now, features the article in the all about you/sex & love section. Gooch, who has 20 years of photography experience and has helped thousands of clients put their best face forward, offers his DIY tips to get you looking great online.
Here are a few tips Gooch shares in the article How to Look Better in Your Profile Picture:
-Dress like you're going on a first date. In other words, grab that sexy-yet-comfy outfit you know you rock. "Any color works, but avoid busy prints, which can be distracting," says Gooch
-Angle your body so you're not facing the camera squarely. "No one photographs well straight on," he says.
-Be simple but bold. Make your primary profile picture, the one that shows up in the search results, a crisp well-lit close up. Full-body shots get lost in a sea of thumbnails. Says Gooch: "Guys online have an even shorter attention span than in real life."
DatingHeadshots founder Gordon Gooch wants to help people achieve online dating success. He recognizes that people are often uncomfortable writing about themselves and don't understand the importance of that first great impression. That's why DatingHeadshots specializes in providing Online Dating Profile Enhancement Services in a few easy steps, taking the fear out of creating a profile whether for any online dating site or for Facebook and LinkedIn. For more information about online dating services visit datingheadshots.com
About DatingHeadshots
Dating Headshots specializes in providing premium online dating profile enhancement services. We have a network of syndicated professional photography studios, dating coaches and profile writers across the US and Canada. For more information, please go to http://www.datingheadshots.com.