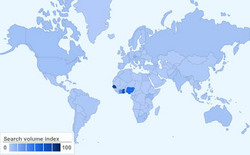 By making the dating fraudster believe nothing is wrong with his or her account we've basically removed the threat from our online dating service, because rather than trying to circumvent security measures, the scammer goes about happily messaging people, and when no one answers he merely leaves
Edmonton, AB (PRWEB) September 9, 2009
Online dating site CupidMarket.com recently invested heavily in fraud protection for its service, because according to 'Google Insights For Search', the search terms 'online dating' and 'free dating' are the most popular with scammers looking to make a buck from online daters.
'online dating' and 'free dating' are dominated by African counties, with Canada and the United states at the bottom of the search volume index. Other search terms, like 'dating site' and 'dating service,' are completely dominated by shady countries.
Because of the prevalence of these types of users, dating sites have been forced to implement antifraud technology. For example PlentyOfFish automatically bans any user who mentions a high-risk country in a private message or public profile.
CupidMarket meanwhile uses algorithms to assign members a risk rating. Factors involved in the calculation include: Whether the user registered from an open proxy; the distance the user's IP address location is from his or her specified zip code; whether or not the user came from Google via one of the targeted terms ('online dating,' 'free dating'). If above a certain threshold the user is sandboxed - he or she can receive messages but not send them (though to the user everything seems fine).
"By making the dating fraudster believe nothing is wrong with his or her account we've basically removed the threat from our online dating service, because rather than trying to circumvent security measures, the scammer goes about happily messaging people, and when no one answers he merely leaves," says Tom Tessier, founder of the online dating service Cupid Market.
About CupidMarket
CupidMarket.com is a 100% free online dating service founded by Tom Tessier. Based out of Edmonton, Alberta, CupidMarket targets the United States, Canada, Australia, and United Kingdom markets. Visit CupidMarket Online Dating to register for a scam-free online dating experience.
# # #