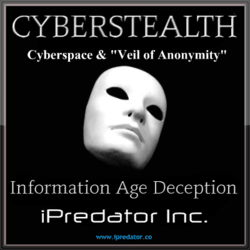 Cyberstealth, formulated with iPredator, describes Information Age strategies of deception to target and victimize online users and prevent identification.
Poughkeepsie, New York (PRWEB) June 22, 2013
Online deception and the ease of being fraudulent in cyberspace is both a reality of the Information Age and a tactic online assailant's use to cyber attack others without being identified and/or brought to justice. Although Information and Communications Technology (ICT) is relatively new, the nefarious and malevolent elements seeking to victimize the innocent are avid enthusiasts. It is easy to recognize the many benefits information technology provides, but the detriments and pain caused to online victims continues by those who use online deception as a tool for personal and financial gain.
Michael Nuccitelli Psy.D., C.F.C., a New York State licensed psychologist, certified forensic consultant and author of the Information Age Forensics construct, iPredator, has made available, at no cost, his online article title, "Cyberstealth", to download of print. His online article, as well as all iPredator Inc. products and services are formatted using the iPredator construct. The iPredator and Cyberstealth definitions are as follows and the Cyberstealth webpage link to read, print or PDF download, requiring no personal information, is provided here: Cyberstealth.
iPredator: A child, adult, group or nation who, directly or indirectly, engages in exploitation, victimization, stalking, theft or disparagement of others using Information and Communications Technology (ICT.) iPredators are driven by deviant fantasies, desires for power and control, retribution, religious fanaticism, political reprisal, psychiatric illness, perceptual distortions, peer acceptance or personal and financial gain. iPredators can be any age, either gender and not bound by economic status, race or national heritage.
iPredator is a global term used to distinguish anyone who engages in criminal, deviant or abusive behaviors using Information and Communications Technology (ICT.) Central to the construct is the premise that Information Age criminals, deviants and violent disturbed are psychopathological classifications new to humanity. Whether the offender is a cyberbully, cyberstalker, cyber harasser, cyber criminal, online sexual predator, internet troll, cyber terrorist or engaged in nefarious cyber deception, they fall within the scope of iPredator. The three criteria used to define an iPredator include:
I. A self-awareness of causing harm to others, directly or indirectly, using ICT. II. The intermittent to frequent usage of Information and Communications Technology (ICT) to obtain, exchange and deliver harmful information. III. A general understanding of Cyberstealth used to engage in criminal or deviant activities or to profile, identify, locate, stalk and engage a target.
Cyberstealth is a concept formulated along with iPredator and is a term used to define a method and/or strategy by which iPredators use Information and Communications Technology (ICT) , if they so choose, to establish and sustain complete anonymity while they troll and stalk a target. Cyberstealth is a methodology entrenched in Information Age Deception or also called cyber deception. Given the Internet inherently affords everyone anonymity, Cyberstealth used by iPredators range from negligible to highly complex and multi-faceted. The rationale for using "stealth" in the suffix of this term, serves to remind ICT users the primary intent fueling iPredators. This intent is to hide their identity by designing false online profiles, identities, covert tactics and methods to ensure their identities remain concealed reducing their probability of identification, apprehension and punishment.
Unlike classic deception used by traditional criminals and deviants, Information Age Deception completely relies on the anonymity and "veil of invisibility" available to all ICT users. The primary difference between Information Age Deception and Cyberstealth are the activities iPredators and ICT users engage in. In this writer's construct, Cyberstealth is reserved for iPredators who actively plan a strategy that have criminal, deviant and harmful implications to targeted victims. Information Age Deception includes all forms of Cyberstealth, but also includes deceptive practices that do not have elements of crime, defiance or harm against others.
About iPredator Inc.
iPredator Inc. is a New York State based Information Age Forensics Company founded to provide educational and advisory products & services to consumers and organizations on cyberbullying, cyber harassment, cyberstalking, cybercrime, internet defamation, cyber terrorism, online sexual predation and the new field the founder is pioneering termed, Information Age Forensics. Created by a NYS licensed psychologist and certified forensic consultant, Michael Nuccitelli Psy.D., C.F.C., their goal is to reduce victimization, theft, harm and disparagement from online assailants.
Contact:

Michael Nuccitelli Psy.D., C.F.C.
NYS Licensed Psychologist
C.E.O. iPredator Inc.
347-871-2416
Website: http://www.iPredator.co