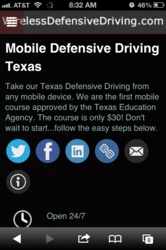 We think this new app brings us much closer to that goal
Dallas, Texas (PRWEB) April 23, 2013
WirelessDefensiveDriving.com has produced and launched a new Android app to make their Texas Defensive Driving course extremely convenient and user friendly. While using this new app, students don't have to browse the web, bookmark or even remember any web addresses.
With this new app, the state of Texas approved WirelessDefensiveDriving.com makes it very convenient for drivers to keep their defensive driving skills sharp. The course is composed of professionally produced, entertaining and educational podcasts for the driver to listen to from any computer or mobile device. The podcasts are free to stream or download to any driver willing to improve or refresh their driving skills. Once a podcast is complete the registered student can take a multiple choice verification test to obtain the Texas Education Agency approved certificate of completion.
The entire process, from registration to completion can be done on the new Android app, or of course the website at WirelessDefensiveDriving.com. The certificate of completion can be used to dismiss a ticket or for insurance premium reduction.
The app has been approved by Google, it is listed at the Google Play and can be found here http://goo.gl/NdPbN
WirelessDefensiveDriving.com has also an iOS (for any Apple product) in the approval process to allow the same convenience to the Apple user. In the meantime our mobile website version, which is automatically displayed when visiting with a mobile device, can be used being almost as conveniently as the app.
WirelessDefensiveDriving.com has once again broken new grounds with the introduction of their state approved mobile, wireless defensive driving course. Over 10 years ago, the same good folks at WirelessDefensiveDriving.com made history by having created the very first state approved, defensive driving online course. The first of its kind at the time.
"We hope to remove every last barrier and make it as convenient as possible for our fellow drivers to become as safe and defensive as possible, especially in the youth age group" says Mr. Collins, founder and instructor at WirelessDefensiveDriving.com, "We think this new app brings us much closer to that goal."