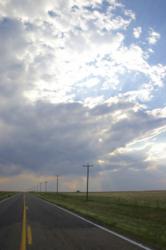 Keep the goal in mind...have fun!
Dallas, TX (PRWEB) May 27, 2013
Summer family vacation road trips have been part of so many comedy movies, jokes and ridicule but they remain one of the most cherished, loved things to do as a family during summer. Few other activities can bring a family together and make everlasting memories like a family road trip. With a bit of planning, skills and good luck, a family can have a magnificent experience. The defensive driving pro's at WirelessDefensiveDriving.com have reduced years of experiences into a short survival tips checklist.
1 - Before you go, do a vehicle check.

Tires. Check and replace the vehicle's tires if necessary. Use this blog post to find out how to check your tires' tread. Once established the tires are good, make sure they are properly inflated. A driver should take in consideration that when towing a trailer, the tyre's pressure will need to be adjusted according to the vehicle's recommendations.
A/C. Chances are, the trip will include some pretty warm or downright hot climate while on the road. Tuning the A/C system before starting the journey is always a great idea. Nothing can bring misery to a vehicle full of people like a hot car on a hot freeway.
Belt and Hoses. The summer heat and the long driving hours will stress these components more than usual. Check for cracking, blistering or minor cuts in the rubber.
Fluid level. Transmission, brakes, coolant and last but not least, windshield washer fluids. Easy to do, these checks can save some major headaches down the road.
2 - Make a plan.
Jumping into the car and start driving sounds like fun, and sometime it is. If there are children involved, knowing where the rest-stops, food, lodging opportunities are located ahead of time, is key to a successful family trip. Having something for the kids to track and look forward to while on the road can reduce the 'are we there' questions and keep them interested and engaged in the trip.
With proper planning, families can make the most of the stops along the way. Making sure that different and varied interests are covered goes a long way to keep everyone happy.
3 - Aim to please.

Be considerate about driving distances. Some people take a road trip as a mission to get there is the shortest amount of time...a recipe for guaranteed suffering. Keep the driving time fragmented with frequent stops to stretch and walk around. If traveling with smaller kids keep in mind nap times and use them to your advantage. Some parents will drive at night, while the kids are sleeping to maximize the day time hours at the destination. Be mindful that night driving is riskier than daytime driving. Lower driver performance, tiredness, lack of support like gas station, towing and emergency services may make night driving too risky for some families.
4 - Bring an emergency kit.
Sometimes, even a very well maintained vehicle breaks down and being ready for the emergency, is key to the well being of everybody on the road trip. The emergency kit should include: water, flares, first aid, jumper cables, flat tire tools, flashlights, warm blankets, map, non-perishable food, duct tape, rope and extra batteries.
5 - Keep the young ones safe
Keep in mind of the non-driving hazards like sun exposure and dehydration and be ready to handle them. Since the family will be making frequent stops with a full car load, pay special attention when backing up to make sure everyone is out of the way and safe. Never leave the children inside the car alone. Remind your kids that trunks are for cargo and not for playing and prevent truck entrapment.
"Remember that a family road trip is about the journey. Slow down, practice defensive driving and keep things interesting. Plan, but keep some improvisation alive, it will give a sense of adventure to the trip. Keep the goal in mind...have fun!" says Mr Collins, instructor and founder of the first online defensive driving school in Texas.
------------------------
WirelessDefensiveDriving.com
5470 West Lovers Lane
Dallas, TX 75209