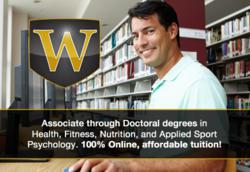 Earning your health and fitness degree gives you the knowledge to start a career in over 50 different health and fitness niche markets.
Rancho Santa Margarita, CA (PRWEB) May 11, 2013
Since most people lose sight of their New Year's resolutions after 90 days or less, summer offers a great chance to take stock and get back on track. Students interested in pursuing higher education on their own schedule have a great option for meeting their goals and changing their lives: Wexford University's online bachelor's degree in health and fitness. The health and fitness degree program prepares students for careers as an exercise scientist, kinesiologist, health educator, clinical exercise physiologist, corporate wellness director and physical therapy as well as further higher education in health and wellness.
Interested students can learn more and apply online now for summer classes, which begin June 24, at http://wexford.edu/degree-programs/bachelor-of-science-degree-in-health-and-fitness/.
"After the gleam of those January resolutions wear off, it's a great idea to reassess your goals and priorities for the year, particularly as they relate to education," said Jack Bauerle, Chancellor of Wexford University. "Wexford University's online bachelor's degree in health and fitness is ideal for anyone interested in a lucrative career in the growing fitness and wellness industry. It offers world-class education, affordable pricing and convenient, flexible classes."
Objectives for the bachelor's degree in health and fitness for the summer session and beyond include:
A comprehensive understanding of science currently applied in the field, such as biomechanics, nutrition, exercise physiology, advanced. program design and sports psychology
Gaining a multi-disciplinary approach to enhance health, prevent disease and disability
The ability to effectively address conditions related to hypokinetic illness, chronic disease states, special populations, or other health etiologies
Developing analytical and critical thinking skills
And more.
Students can learn more about the online health and fitness program and apply for the summer session now at http://wexford.edu/apply/.
About Wexford University
Wexford University is dedicated to providing world-class education through cutting-edge technology, offering direct application degree programs in an accelerated format with 100 percent online learning to save time and money. Programs include an associate of arts degree in Fitness Training, bachelor's degree in Health and Fitness, master's degree in Nutrition and Exercise as well as master's degree and doctorate degree in Applied Sport Psychology. Wexford University is the higher education division of NESTA (National Exercise & Sports Trainers Association). For more information, please visit http://wexford.edu/.