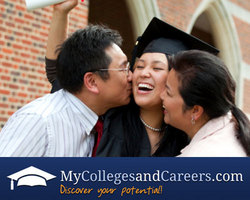 Provo, UT (Vocus) September 23, 2010
One of the greatest thing about online degrees is that they often can give those seeking higher education access to degrees that aren't available locally at on-campus locations. Online degree programs can be a great way for people to advance their careers, but only if those online degree programs provide an accredited online degree. Those looking for a master's degree often benefit from an online master's program since they can continue full-time or part-time jobs while earning an advanced degree. Since knowledge is power, MyCollegesAndCareers.com has found some new online master's degrees from top online universities and online colleges.
Public Administration – Capella University
Health Administration – Capella University
Business Administration - American Intercontinental University
Education – Ashford University
Marriage, Couple, and Family Counseling – Walden University
Master's in Public Administration from Capella University
A master's degree in public administration is commonly used by those seeking to manage governmental organizations and many nonprofit organizations and nongovernmental organizations. A master's degree teaches students principles of public administration, public policy management and implementation, how legislators interact with various organizations, and many other principles. A master's degree in public administration incorporates principles from a variety of disciplines like economics, political science, and more.
Master's in Health Administration from Capella University
A master's degree in health care administration prepares students for managing a health care business or office. A master's degree prepares students to evaluate current trends and policy changes and how to properly change their business to cope with these changes and trends. Business principles and management skills are also taught, helping graduates run successful health care businesses.
Capella University has more than 69 master's degree program including more than 50 master's of science degrees. They currently have more than 27,000 post-graduate students. First founded in 1993 as the Graduate School of America, Capella University specializes in post-graduate studies.
Master's in Business Administration from American Intercontinental
An online master's degree in business administration, commonly known as an MBA, is one of the premiere and most popular of all master's degrees. An MBA is considered an essential and useful degree for every industry and is highly recommended for anyone wishing to own or manage a business. The degree teaches basic and advanced business principles, such as accounting, marketing, human resources, and principles from many other fields necessary for a successful business.
Founded in 1970 in Switzerland, American Intercontinental University has a long history of providing degrees recognized by the U.S. to those abroad. In fact, the school's largest location is in London. Today they continue that tradition by providing distance learning online. They currently have more than 27,000 students and offer associate's, bachelor's, and master's degrees. American Continental also has on-campus locations and support centers throughout the U.S.
Master's in Education from Ashford University
A master's degree in education helps educators stand out and become better teachers. An online education degree is a great way to advance a teacher's career, increasing their salary and improving their job stability and allowing them to expand their career. Online courses will often discuss education history and theory, allowing teachers to better understand the the teaching field. Overall, a master's degree instructs educators on how to become better teachers.
Founded in 1918, Ashford University is a liberal arts institution offering associate's, bachelor's, and master's degrees. They currently have more than 25,000 students. The school offers classes that last 5-6 weeks, and students may only take one class at a time. Ashford University welcomes students who are looking for a place to transfer their credits and finish their degrees.
Marriage, Couple, and Family Counseling from Walden University
As divorce rates increase, the demand for marriage, couple, and family counselors increases. Many struggling couples and families turn to these counselors to help them resolve problems, and an increasing number of people are using counselors as they prepare for a long term commitment like marriage, learning how to resolve problems and prevent them from ending their relationship. Students learn methods to help others resolve problems as well as other methods to find causes for tension in a relationship. A degree prepares students to obtain licenses as a marriage and family therapist and a professional counselor.
Walden University is a well-regarded school offering mostly post-graduate degrees, though there are several bachelor's degrees available. Founded in 1970, Walden currently hosts more than 30,000 students. It is exclusively online, and offers associate's, bachelor's, master's, education specialist, and doctoral degrees
MyCollegesAndCareers.com helps students connect with the best schools available to earn their college degree and embark on a rewarding career. A powerful resource for individuals who have full-time jobs or family responsibilities, My Colleges and Careers connects people with the programs that help them to earn their online degree fast.
###