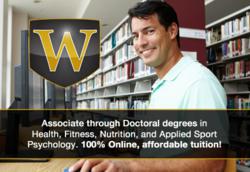 Earning your doctoral degree in applied sport psychology gives you endless opportunities in the fitness, sports performance and consulting fields.
Rancho Santa Margarita, CA (PRWEB) January 21, 2013
Coach? Consultant? Counselor? A doctorate degree in Applied Sport Psychology, available online through Wexford University at http://wexford.edu/degree-programs/doctoral-degree-in-applied-sport-psychology/, can be used for all of the above fields and more, including positions in corporations, government agencies, nonprofits, sports performance clinics, and sports and fitness organizations. To take your education and passion to the next level, consider Wexford University's online degree programs; registration is now open for spring classes, which start on April 1.
Sport psychology experts help athletes and fitness enthusiasts optimize their performance, assist coaches in creating winning, cohesive teams and help athletes set personal and professional goals to enhance performance both on and off the field. The doctoral degree in Applied Sport Psychology is an extension of the university's online master's degree.
"If spring is the time of renewal, then it's the perfect time to begin a highly regarded and convenient online education in Applied Sport Psychology, a field that continues to expand worldwide," said Jack Bauerle, Chancellor of Wexford University. "Our doctoral coursework is designed to share coaching principles, counseling methods, the latest on group dynamics and mental toughness and much more, helping to create holistic, knowledgeable and prepared sport psychologists."
In addition to classes and coursework in sport and social psychology, leadership, communication, mental training, neurophysiology and professionalism, Wexford University's program also teaches students how to launch and build a successful sport psychology practice, distinguishing it from most other degrees in sport psychology. The online doctorate degree in Applied Sport Psychology also includes an internship or special project in the field.
About Wexford University
Wexford University is dedicated to providing world-class education through cutting-edge technology, offering direct application degree programs in an accelerated format with 100 percent online learning to save time and money. Programs include an associate of arts degree in Fitness Training, bachelor's degree in Health and Fitness, master's degree in Nutrition and Exercise as well as master's degree and doctorate degree in Applied Sport Psychology. Wexford University is the higher education division of NESTA (National Exercise & Sports Trainers Association). For more information, please visit http://wexford.edu/.
# # #