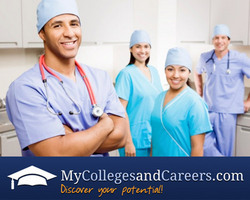 Provo, UT (Vocus) October 28, 2010
Many people begin their career and realize that in order to advance in the work force, additional education is needed. With the need for income, busy work schedules, and family needs, students may not be free to continue their education in a formal university setting. MyCollegesandCareers.com has recently re-launched their search portal to help students looking for online doctoral programs. The Internet is a valuable tool that brings education to people in the comfort of their own homes and forms around their hectic lifestyles and the new My Colleges and Careers search portal now helps students find online programs that work for them faster.
With the right online institution, students can earn the degree they need to have the career of their choice. The problem that many students face is finding that "right institution" and the right degree. MyCollegesandCareers.com can help people who need to further their education find legitimate online doctoral programs in a variety of ways. The doctoral programs section has been boosted with all of the additional doctoral programs from major and smaller universities. A new library of facts, including salaries, video testimonials, and career path placement has been added.
Trying to find legitimate online doctoral programs can be time consuming and bring nothing but frustration and headaches. Many students have worries and concerns about accreditation, requirements, or scams. MyCollegesandCareers.com can help students ease their concerns, find answers to their questions, and begin the path to the career they want by providing in-depth information about every part of the education process. Students are able to research careers, online courses, online colleges, and online degrees. MyCollegesandCareers.com also allows students to search by degree level, area of interest, or even by state.
People who are happy in their field but wish to advance their career, can utilize the search by degree level. After offering basic contact information, enrollment advisers will contact them with a student's education options and institutions that offer online doctoral programs in their field. If students need to speak with an adviser from a specific institution for more information, the enrollment advisers can also put students in contact with them.
Some students may wish to completely change career paths. MyCollegesandCareers.com offers students a one-stop resource for students to research the career they wish to pursue, the level of education required, and a list of online institutions that will help students get the education they need. They can search by area of interest or browse the list of careers under the "Careers" tab.
My CollegesandCareers.com also offers a browsable list of online institutions. With this list, students can find information about various schools and choose the one that meets their needs. Students can easily find online phd programs that can help them reach their educational goals. This eliminates the time and consternation of searching out individual schools that may or may not offer appropriate programs. MyCollegesandCareers.com also offers up-to-date information about the best schools and top courses offered.
Students are also able to research the importance of the online doctoral programs, or any type of program, that will help them land a job in their chosen career field. Many career resources inform students of what degree they need, but not necessarily why they need it. My CollegesandCareers.com offers links and information about why students may need a particular degree, the benefits of obtaining that degree, and information on how students can go about getting that degree. While students can find the information they need on their own, MyCollegesandCareers.com emphasizes the personal help that students can receive through their enrollment advisors.
MyCollegesandCareers.com is committed to helping students find the best school for them so they can earn their college degree and embark on a rewarding career. A powerful resource for individuals who have full-time jobs and family responsibilities, MyCollegesandCareers.com connects people with the programs that help them earn their degree online.
# # #