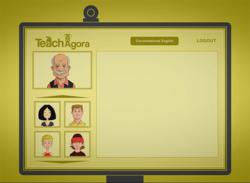 Teaching online has enabled me to earn extra money and reach students globally!
Montreal, Quebec (PRWEB) October 31, 2012
Teachagora.com connects teachers and students across the globe. Whether someone wants to earn money as a teacher, or learn on their own time from the comfort of their home, Teachagora brings education to your fingertips.
Signing up for Teachagora is free. Registered users will be able to purchase classes, or create their own Seminars and Classrooms by visiting their Teacher's office. Users have the freedom to set their own prices and chose the subject they want to teach. All Seminars and Classrooms take place using a Live Virtual Platform, where the Teacher and Students use webcams, microphones and a chat room to communicate during the class. Other features include shared whiteboard, file sharing, slideshows, screen share and more.
As our Live Virtual Platform is our main product, Teachagora offers other learning tools. Teachers can access an advanced yet simple Quiz Creation Interface in which students can purchase, test their knowledge and get graded. In between classes, users have the option to participate in their student lounge by posting private comments, downloading files uploaded by the teacher and uploading due homework.
Teachagora is not just another educational site. Their goal is to give teachers and students the tools and freedom to either earn a living or study no matter where they are located.
Online education is the future, and Teachagora provides all the tools necessary for Teachers and Students to succeed.
About teachagora.com
Designed and Developed by a Canadian company, Teachagora founder Gino Sciretta believes in pushing the limits of education by combining it with modern day technology.
Every teacher should have the necessary tools to reach students globally. Having worked on this project for the last 4 years, Gino Sciretta is a Web Designer/Developer with just over 8 years experience.
Contact:
Gino Sciretta, Founder and Webmaster
Teachagora
514-567-7220
http://www.teachagora.com