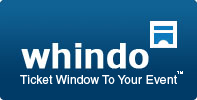 Many of the features in this release were developed in response to requests and suggestions from our customer base
Austin, TX (PRWEB) March 12, 2012
To complement its successful event registration platform, Whindo has released several new features to help aid event organizers successfully promote and sell tickets to their event.
"We continually listen to our customers and develop solutions to ensure their event marketing efforts are successful. Many of the features in this release were developed in response to requests and suggestions from our customer base," said Russell Bellow, founder at Whindo.
Some of the new features in this latest request include:
Offline Payments - In addition to accepting online payments event organizers can provide registrants with an alternate form of payment, for example, checks and money orders. Organizers will collect the offline payments directly and then distribute tickets to guests through Whindo.
Event Calendar Plugin – Showcase upcoming events directly from an existing personal or company website. An organizer can simply paste the auto-generated code into their website.
Event Ticketing Plugin – If an organizer already has a promotional event website and just needs a mechanism to manage ticket sales the event ticketing plugin provides ticket management directly from their site.
Enhanced Ticket Customization - Once a buyer completes an order from an event website they will receive PDF tickets for admittance into the event. This handheld ticket is an opportunity to further enhance the brand image, reward sponsors and/or drive attendance to an upcoming event.
Complimentary Tickets - Need to comp some tickets to an event? Using Discount Codes Whindo enables event organizers to send free tickets to the event.
About Whindo
Whindo is an online event registration solution that enables anyone to create a custom event website, send promotional email invitations, securely collect ticket fees, and manage attendees. For more information visit http://www.whindo.com or follow the Whindo team on Twitter at @ticketwhindo.