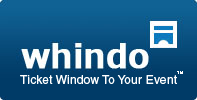 Austin, TX (PRWEB) March 31, 2012
To further complement its successful event registration platform, Whindo has released several new features to help aid event organizers successfully promote and sell tickets to their event.
"We continually listen to our customers and develop solutions to ensure their event marketing efforts are successful. Many of the features in this release were developed in response to requests and suggestions from our customer base," said Russell Bellow, founder at Whindo.
Include Service Fee within Ticket Price - As an alternative to appending the convenience fee of $0.99 on top of the event's ticket price an organizer can choose to include the fee in the listed ticket price thus absorbing the fee and shielding registrants from the cost of the service.
Email Confirmation Customization - An event organizer may want to include event specific information regarding an event with completed registrants only. Some common examples include, a call-in number to a teleconference, a URL to an online event, and a link to download additional event materials.
Customizable Attendee List - Custom data points are often collected during the registration process. It is now possible to share those data points with event website visitors.
3rd Party Access to Registrants - Granting access to a current event's registration list is now available without granting full access to a Whindo account.
Mobile Reservation Management - Event organizers now have greater control over mobile reservations by being able to define when and if mobile reservations are enabled.
View other features released this month.
About Whindo
Whindo is an online event registration solution that enables anyone to create a custom event website, send promotional email invitations, securely collect ticket fees, and manage attendees. For more information visit http://www.whindo.com or follow the Whindo team on Twitter at @ticketwhindo.