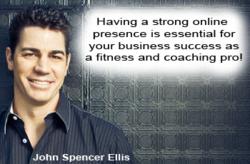 It's never been easier to get your fitness and coaching business online and grow your online empire.
Rancho Santa Margarita, CA (PRWEB) January 14, 2012
While many people will be visiting personal fitness trainers and gyms to tackle their new year's resolutions, personal trainers themselves may have resolved to increase their business by creating an online presence and website this year. If so, My Fitness Company offers a 2012 special: for $7.99, personal trainers can set up a new domain name for a fitness site as well as a free starter web page, domain forwarding and masking, email forwarding, auto renew protection, status alerts and more.
Designed for personal trainers, coaches and fitness professionals who are interested in building an online presence quickly and inexpensively, MyFitnessCompany.com offers a full suite of website launching services in addition to the current online promotion.
"If you are a personal fitness trainer or coach and you don't have a website and social media presence advertising your business, then you are literally losing out on hundreds of dollars and new business every day," said John Spencer Ellis, founder of John Spencer Ellis Enterprises, a personal development and fitness solutions company, and the My Fitness Company site. "We created My Fitness Company as a full service online resource for personal trainers who are seeking more online marketing, more clients and more income."
In addition, My Fitness Company helps personal trainers find, register, renew or transfer website domain names; host websites and blogs; secure the website and protect customer data and transactions with a SSL certificate; develop an online store for fitness product sales; boost search engine visibility; establish a spam-free email account as well as an email plan, online marketing and business calendar; build the new website and more.
The sale is for new dot com domain names. My Fitness Company also provides online support, information on renewals and upgrades, private registration and more, all designed specifically for personal fitness trainers and coaching professionals.
About John Spencer Ellis Enterprises and My Fitness Company
John Spencer Ellis Enterprises is a solutions provider for fitness and coaching professionals around the world, providing education, turn-key business programs, coaching and resources for new and advanced fitness and coaching professionals. For more information about John Spencer Ellis Enterprises or My Fitness Company, please visit http://www.myfitnesscompany.com/
###