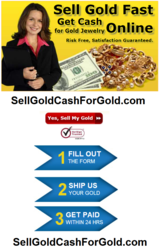 "If you choose InstantPay, we will deposit the money directly into your bank account."
Orlando, FL. (PRWEB) May 30, 2013
"NowGold.com is our #1 top pick for online gold buyers. We give them this honor because they have the highest customer satisfaction rating. They hit the trifecta with great customer satisfaction, high payouts and quick payments," OnlineGoldScam.com explains. "They offer such fast payments because they allow people to print their own shipping label from the web, instead of waiting several days for a jewelry return pack to show up in the mail."
OnlineGoldScam.com is a website where people can see reviews of different companies that buy gold jewelry. "OnlineGoldScam.com is a forum dedicated to helping consumers make the right choice when selling their gold jewelry online. People can read about other people's experiences with online gold buyers, and they can post comments and feedback about their own personal experience," the gold buying review website explains. "Not all online gold buyers are the same! Some sites pay top dollar for old gold jewelry, while others will try to pay just pennies on the dollar. Some online gold buyers will always treat people honestly and fairly, but some others will try to take advantage of people at every opportunity."
One of the comments that was published by OnlineGoldScam.com was from a customer named Marn that stated, "After doing lots of research I decided to give nowgold.com a chance. And I'm so glad I did. I sent in quite a good bit of gold, and got paid about $5,000. I couldn't believe it. I was so happy!! Not only was the payout great, but their customer service went above and beyond. Super friendly and extremely helpful. Would recommend NowGold.com to anyone!"
NowGold.com has a gallery to help you estimate the value of your gold. "Simply fill out the form on the right side of the page and click the 'Yes, Sell My Gold' button. We will walk you through the rest of process. Once you have completed the Get Started form, you'll be ready to ship out your gold," the instructions on NowGold.com official website explain.
"Follow the printed instructions that come with the shipping label, or check out the 'How To Ship' page for detailed instructions," a NowGold.com representative explains. The NowGold.com rep. continued to explain, "Once we receive your package we will immediately process the jewelry, calculate payment and send the cash. If you choose InstantPay, we will deposit the money directly into your bank account. If not, we will mail you a check right away." Visit the OnlineGoldScam.com website to read more reviews and testimonials from people that have sold their gold jewelry online.