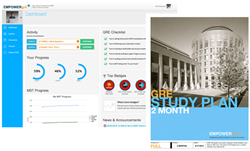 Students are shocked that a GRE prep resource this comprehensive is so affordable.
Palo Alto, CA (PRWEB) March 08, 2016
EMPOWERgre, a leading online GRE test prep company that serves thousands of GMAT and GRE students worldwide, announced today that it has launched a groundbreaking new adaptive learning syllabus.
The new syllabus, which delivers comprehensive coverage of the content tested on the GRE, automatically adjusts to each student's learning preferences and style to maximize learning efficiency. It also coaches students on breakthrough tactics such as "Triage," which enables them to boost their score by ignoring questions that effectively don't matter, and focusing on those questions that do.
"The feedback so far on our new adaptive learning syllabus has been phenomenal," commented Rich Cohen, EMPOWERgre's co-founder. "Students are shocked that a GRE prep resource this comprehensive is so affordable. For the first time, all students can access elite insight that was previously only available to the privileged few, and triumph on the GRE!"
Students have two ways to take advantage of EMPOWERgre's new adaptive learning syllabus: they can sign-up for a Study Plan, or for a Score Booster Plan.

Study Plans are available in 1, 2 or 3 month subscriptions, and feature 1000+ videos, 100+ lessons (math, verbal, AW), and a suite of supporting outlines and podcasts.
Score Booster plans are available in three editions – Quant Booster, Verbal Booster, and Total Booster – and suitable for students who are using other GRE prep tools, yet are stuck below their target score.
All content is available on-demand, and both plan types are backed by a score improvement guarantee and prompt email support.
Added Mr. Cohen: "When applied, the tactics in our course are radically powerful in helping test takers to beat the GRE."
For additional information, visit https://empowergre.com.
About EMPOWERgre
EMPOWERgre is a leading online education company based in Palo Alto, California, serving thousands of GMAT, and GRE students globally. Learn more at http://www.EMPOWERgre.com and http://www.EMPOWERgmat.com.