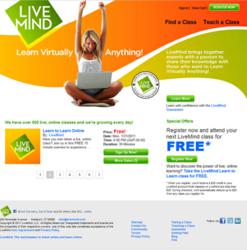 Just as eBay revolutionized garage sales, LiveMind will revolutionize live learning.
Westport, CT (Vocus/PRWEB) January 31, 2011
LiveMind.com revolutionizes the adult continuing education and casual learning industry by putting teachers and students together in live, online interactive classrooms. Using the LiveMind platform and suite of services, anyone with expertise to share can create and teach a class on any subject, and offer it at any price. People interested in learning go to LiveMind.com to find and take classes on their topics of interest. They're able to select classes and instructors based on class descriptions, instructor ratings and price.
Unlike traditional online learning models where students download and interact independently with course material or videos, LiveMind provides an actual virtual classroom where teachers can share any document or application; students can see and speak with the teacher, talk to each other and ask questions just like in a physical classroom. "Just as eBay revolutionized garage sales, LiveMind will revolutionize live learning," says LiveMind founder and President, David Dean. "As a student you are no longer constrained to the continuing education classes offered in your local community college or community center. And for those that want to teach, now you can bring your expertise directly to an unlimited student population and keep the vast majority of the fees you generate."
For teachers, LiveMind provides an easy-to-use, live teaching environment with the convenience, money making potential, and access to students that they could never get in their local geography. It is an easy-to-use, turnkey environment with all the tools necessary to allow a teacher to build an online teaching business.
For students, LiveMind provides an easy-to-use, social learning experience with the convenience and breadth of topics they could never find in their local community. The online classroom experience has all the benefits of traditional teacher-led learning. It's simple and fun to use.
LiveMind.com, which launched in April 2010 under the name Yamisse.com, currently offers over 500 classes in wide-ranging topics such as personal finance, health and nutrition, software development, digital photography, languages, career planning and many other subjects. LiveMind is experiencing fast growth - new classes in new topic areas are being added every week and the community of students and teachers is expanding quickly. "Our mission at LiveMind is simple," explained David Lynch, CEO of LiveMind. "We intend to build the premier, live online learning marketplace that creates new social learning and teaching opportunities for the masses."
About LiveMind.com
Livemind.com is a Westport, CT-based internet company that launched in April 2010. LiveMind is an open marketplace for live online learning. Using the LiveMind platform and suite of services, anyone can create and teach a class on any subject, and offer it at any price, or for free. People interested in learning can use LiveMind to find and take classes on their specific topics of interest. Students select classes and instructors based on class descriptions, instructor ratings and price. All classes are offered in live, online interactive sessions using state of the art tools and technology including live video and audio interaction with the instructor and advanced presentation capabilities. http://www.livemind.com
# # #