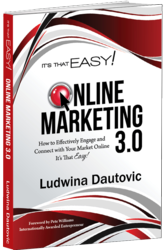 "To be acknowledged for our innovation and collaboration shows that the book delivered on it's promise..."
Ludwina Dautovic
Melbourne, Victoria (PRWEB) June 14, 2013
About 'It's That Easy – Online Marketing 3.0'
'It's That Easy - Online Marketing 3.0' is the brainchild of Melbourne-based Ludwina Dautovic, a multi awarded winning innovator, publisher and broadcaster widely regarded as one of Australia's most influential business women.
Collaborating with world leading online marketing and business specialists, Ludwina has self-published 'It's That Easy - Online Marketing 3.0', a unique business resource for business owners, leaders and entrepreneurs looking for practical and valuable advice on how to better engage and connect with their market online.
Contributors to 'It's That Easy - Online Marketing 3.0' include internationally acclaimed experts such as: Chris Adams, Global CEO and Executive Director of Spondo.com, former Producer of the Reality TV Show "Facebook Diaries," Chief Vision Officer for Participant Media and Entertainment Business Development Executive for Amazon.com, along with Melanie Summer, founder of Flashfotos and 2010 Telstra Small Business of the Year Winner. The foreword is written by the businessman often described in the media as Australia's own Richard Branson: internationally awarded entrepreneur, author and marketer Pete Williams.
Author Ludwina Dautovic said: "It's an absolute honour to be listed in the Anthill Smart 100 index for 2013. To be acknowledged for our innovation and collaboration shows that the book delivered on its promise; to bring together 18 of the world's leading online marketing and engagement specialists who deliver current and relevant content, showing business owners how to better connect and engage with their market online."
She adds: "This is the first in a book series titled: 'It's That Easy' that will continue to deliver current and relevant information on online marketing, digital and new media. Our next book will focus on 'Content Creation and Syndication' and will be released later this year."
About the Smart 100
The SMART 100 Index was created by leading business media channel Anthill Magazine in 2008 to identify and rank Australia's 100 most innovative products, proving to be one of the largest surveys of its kind in Australia.
"In true Anthillian style, the SMART 100 is an ever-evolving, ever-improving experiment," said Anthill founder and Editor-In-Chief James Tuckerman.
"It identifies and ranks new Australian innovations by applying a combination of crowdsourcing, collaboration and common-sense. We employ the judgement of 'mavens' and readers. Unlike your average awards program, we don't lock a panel of expert adjudicators in a small room. Neither do we demand a thorough analysis of each applicant's P&L statement. We don't even request a historical snapshot of 'runs on the board' or commercial achievements. This is because innovation is future focused. It is about identifying and solving problems in ways that will change the way we live, do business and think."
What is Anthill Magazine?
Anthill was initially launched as a print magazine in September 2003 by its current editor-in-chief James Tuckerman, who at the age of 26 quit his day job, departing a promising career in corporate PR, to pursue his own entrepreneurial journey.
Since then, it has evolved into one of Australia's leading online communities for Australian business owners, ranked among the Top 50 Business & Finance websites in Australia by Nielsen Online Ratings. It is dedicated to innovation, entrepreneurship and the commercial development of Australian ideas.
Ludwina Dautovic is the director of In Focus Productions Pty Ltd an umbrella company for her many websites, products and services. For further information on 'It's That Easy – Online Marketing 3.0' contact: Ludwina Dautovic on 0412 483 813.