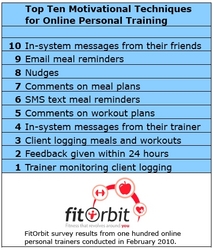 In a real-world situation many clients can only reach out to their trainers when they see them for a scheduled workout session. With FitOrbit however, clients can reach out to their trainer whenever they feel the need," says Trainer Kristy Lee Wilson
Los Angeles, CA (PRWEB) March 1, 2010
FitOrbit, leading internet-based personal training and workout and meal planning service, presents the results from its recent survey of one hundred online personal trainers. The survey asked personal trainers to evaluate effective motivational techniques for clients they train online verses in the real world. Personal trainers indicated their online clients benefit from receiving a healthier dose of motivation and support toward meeting their fitness goals then their offline counterparts. The survey also revealed particular techniques that successfully engage clients - over the internet - to partake in regular physical activity and healthy eating in the real world.
The lack of motivation to get off the couch and break serious eating and beverage consumption habits is one of the greatest barriers to reaching personal fitness goals. Survey participants were asked about their use of specific FitOrbit features like SMS text and email notifications, in-system messaging, nudges, and plan modifications aimed to motivate clients to perform the daily fitness activities, which are suggested for them in their workout and meal plans.
Survey participants indicated that the most popular component of their online personal training service is providing on demand access for clients, and giving them real-time feedback when they need it. Personal trainers attributed this factor to enabling the development of a more intimate relationship with their clients, which helps build trust and honesty.
"Non face-to-face methods, such as the mail and the internet, can reduce potential barriers, such as lack of access to fitness facilities and time constraints," says lead author Bess Marcus, PhD of a research study conducted at The Miriam Hospital Centers for Behavioral and Preventive Medicine and The Warren Alpert Medical School of Brown University. Marcus continues, "Different channels of delivery can provide equally effective results".
Survey participants overwhelmingly pointed out that one of the biggest differentiators between online and real world personal training is that online personal training makes monitoring their clients' actual daily activities convenient and transparent.
Personal trainer Susannah Marchese says, "I don't have contact with my real world clients everyday. My FitOrbit clients have access to me anytime they want, and since I am providing a whole week's worth of meals and workouts, it is in some ways a much more intimate relationship in that I "talk" to them every day".
FitOrbit arms trainers with access, monitoring, and support tools that enhance their online personal training. An example is in-system messaging between trainers and clients, which allows for free flowing communication and organization of training related thoughts, reminders, and recommendations. FitOrbit plans to significantly advance the in-system messaging system in an upcoming release in late Spring. Based on user experience testing and feedback a number of new features will be introduced to maximize the potential of this important trainer-client dialogue.
"FitOrbit clients have more access to their trainer than do real world clients. Knowing that they can reach out to their trainer at anytime is a very comforting thing for a client. In a real-world situation many clients can only reach out to their trainers when they see them for a scheduled workout session. With FitOrbit however clients can reach out to their trainer whenever they feel the need. I know for my clients that this has been an extremely critical component in keeping them on track toward achieving their fitness goals," says Personal Trainer Kristy Lee Wilson.
Survey participants also cited the workout and meals plans they deliver weekly to clients as critical to engaging the client. FitOrbit trainers make each client's weekly plan by dragging and dropping personalized activities that include breakfast, lunch, dinner, snacks and workouts along with recipes, exercise how-to video demos and clips, and grocery shopping lists, into a weekly calendar that reflects the client's schedule.
When a client receives their weekly plan, they log their daily activities to keep their trainer informed of their status - sharing if they completed an activity or did something different. Trainers monitor client logging to provide time-sensitive personal guidance and mid-week plan modifications.
FitOrbit client Teressa says, "[My FitOrbit personal trainer] always responds in a timely manner and treats me with warmth respect and encouraging words. I'm confident that I will reach my goals with the help of FitOrbit. Finally an exercise program and trainer that revolve around me!" says FitOrbit client.
Personal trainer Susannah Marchese explains, "I want clients to know that I am watching them and I am on their team"!
Survey participants included one hundred personal trainers who actively train clients online with FitOrbit. The survey was conducted in February 2010. Please visit http://www.FitOrbit.com for more information.
About FitOrbit:
FitOrbit takes the proven formula of one-on-one personal online, removing barriers to fitness for users worldwide and bringing unprecedented efficiency, along with new business opportunities to the personal trainer, and accessible, flexible, and affordable training to the consumer. FitOrbit personal trainers deliver a workout and meal plan to clients on an individual basis weekly. This plan costs the client as low as $10 per week. FitOrbit.com launched to the public in June 2009. In September 2009 FitOrbit launched a free iPhone application to provide users with mobile personal training for any on-the-go need. FitOrbit is developed by Global Fitness Media, a start up company headquartered in Los Angeles, CA. Focused on developing web and mobile fitness services that work for real people living in the real world, Global Fitness Media also develops the award winning location-based restaurant nutrition search GoodFoodNearYou. Please visit FitOrbit.com for more details. And, check out the Buzz on FitOrbit.com for client testimonials and reviews.
Media Contact:
Courtney Thompson
ink Public Relations
Courtney(at)inkprgroup(dot)com
310.860.0806
Talia Roselli
Global Fitness Media
424.652.9654
###