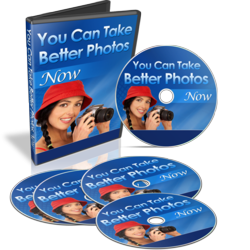 With this training there is no reason for anyone to take all those dark or fuzzy pictures of their family and friends.
Tampa, Florida (PRWEB) May 31, 2012
OnlinePhotographyClasses101.com has just released a new photography class teaching the every-day person how to shoot photos like a professional photographer. The class does not focus on the mechanics of how to work your camera but how to think, see and shoot photos with the mindset of a professional photographer. This course is designed to help every type of camera owner, whether you own the most expensive digital SLR camera or you just want to learn to take better pictures with the camera on your cell phone.
The class includes 5 different online videos focusing on using the right light, photo composition techniques, how to capture those perfect family moments, and how to use point of view to create images to captivate your audience. In addition to the photography videos, you get an online training manual companion guide to teach you the secrets of professional photographers. Currently the E-book, "How To Choose the Best Digital Camera for You" is offered as a bonus.
Tom Parker, President of OnlinePhotographyClasses101.com, says, "With the release of this new online photography class there is no reason for the amateur photographer to take all those dark or fuzzy pictures of their kids, family, and friends." Mr. Parker continued, "With just a few techniques we can teach anyone to take photos like a pro." The class is offered completely online so that each budding photographer can go through everything at their own pace and on their own schedule.
About the company:
OnlinePhotographyClasses101.com offers photography classes to help anyone learn to capture the important moments in their lives. They offer photography courses and training for the beginner to the advance photography enthusiast.
How to Contact:
To obtain additional information on this subject or to schedule an interview with Mr. Parker, contact him at 888-300-1434 or through his website at http://onlinephotographyclasses101.com