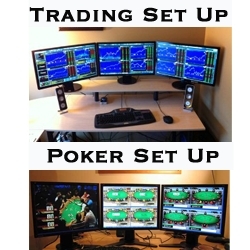 "I wish I had spent more time learning about a "career" instead of an online game."
Chicago, IL (PRWEB) April 28, 2011
TopstepTrader (TsT) offers a legal, viable, and sustainable alternative to online poker. Similar strategy and risk analysis makes futures trading an excellent option for displaced online poker players.
Less than two weeks ago, the U.S. Department of Justice initiated an online poker crackdown on the three largest online poker sites available to the United States.
Fervor for online poker has resulted in many people relying on this as supplemental income, or, for some, full-time jobs. Some players reported earnings of up to $70,000 in one day in online poker. Since the online poker ban many are asking, "now what?" "I don't know what to do," says Daniel Nicoli, a [quote] "professional" online poker player. "This has been my sole source of income for four years. I don't want to get a real job," he hopelessly joked. Daniel is not alone, the New York Times reports that up to 15 million Americans play online poker frequently.
Daniel heard about TopstepTrader from a fellow online poker player, and decided to give it a try. "It's great! TsT has helped me learn about the markets, and I am trading in real time. It's not real money yet, but I am hoping TsT will place me with an equity partner within the next month. I wish I had spent more time learning about a "career" instead of a game."
TopstepTrader is an international scouting agency seeking futures traders. Top performers are offered full-time Trader Jobs at one of Topstep's equity partners. TopstepTrader targets online poker players because there are many similarities in respect to strategy, and risk assessment. However futures trading is legal, offers longevity, and TopstepTrader will mentor its recruits to be better, instantly. Futures trading can also be done from a home office, similar to poker, before the poker crackdown.
In short, TopstepTrader is a company that is looking to nurture, mentor, and advance qualified candidates. Think of this company as the opportunity, because every once in a while, good things come from major change.
About TopStepTrader:
TopstepTrader is a subsidiary of Patak Trading Partners, a boutique proprietary trading group based in Chicago. The company's core mission is to seek out the best trading talent, at any level of experience, and provide these traders with the necessary tools to succeed. The fundamentals of TopstepTrader are simple: recruit talented, passionate traders, provide best of breed trading technology as well as the latest market information, and meet the capital requirements necessary to help talent succeed. For more information email support(at)topsteptrader(dot)com.
###